Have you been thinking of twinning with your partner in our wedding day lookbooks?
Would you like to have a quick 10-minute read about the latest outfit combos in
wedding fashion? Or, would you like to have a mini discussion about the top 8
wedding outfit combos that you and your partner can try before finalizing your
looks?
We got your back! After having an eye-opening conversation with the best wedding
photographers of Kerala, we have prepared a short list of 8 outfit combos for all the
soon-to-be-weds out there! We invite you to have a fun time skimming through our
picks, just to get a stronghold of the current trends in bridal fashion as well as
menswear trends in wedding fashion!
1) The Classic Kerala Edit
There is nothing more refreshing than a crisp white shirt-mund combo and the
glorious silk saree attire. Classic Kerala traditional Hindu wedding outfit combos
truly cherish the inner depth of rich Kerala heritage and culture. To point out, the
crisp white Khadi shirts of the early 90s have been replaced by a comfy kurta in men's
wedding outfits.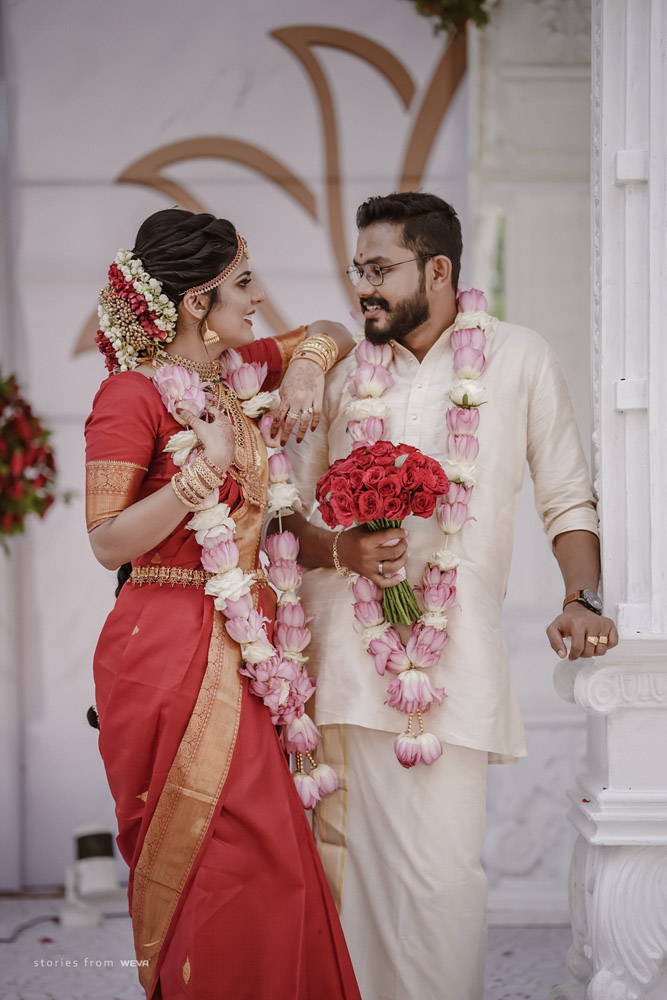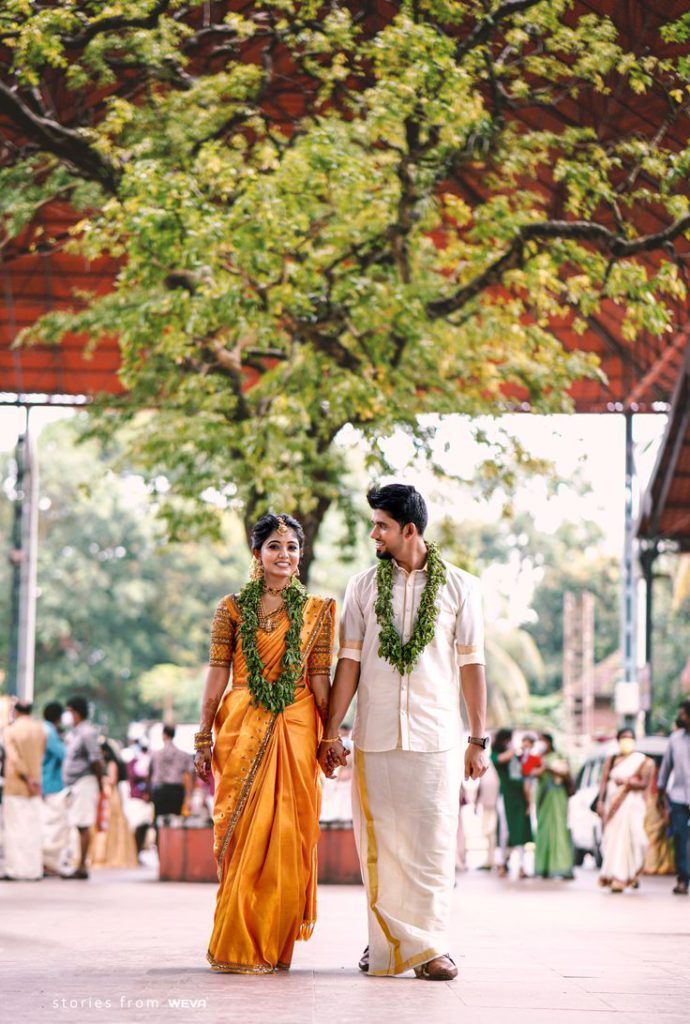 Clearly, the legacy remains the same even with the minor updates that are solely
focused on creating a comfier version. Undoubtedly, vibrant greens, blood reds and
shiny yellow shades have never left the party in Kerala bridal saree trends. Added
to that, heirloom jewelry and fresh jasmine flowers give more life to the overall outfit
combo we are discussing here!
2)Here Come the Royals!
Adapting the best royal wedding looks of North India, the traditional lehenga-choli
& Sherwani combo is still a drool-worthy look in the 2022 wedding lookbooks.
Significantly, the tiny little details like the choice of flowers or the bridal jewels
complete the look to a 10 on 10 royal aesthetic!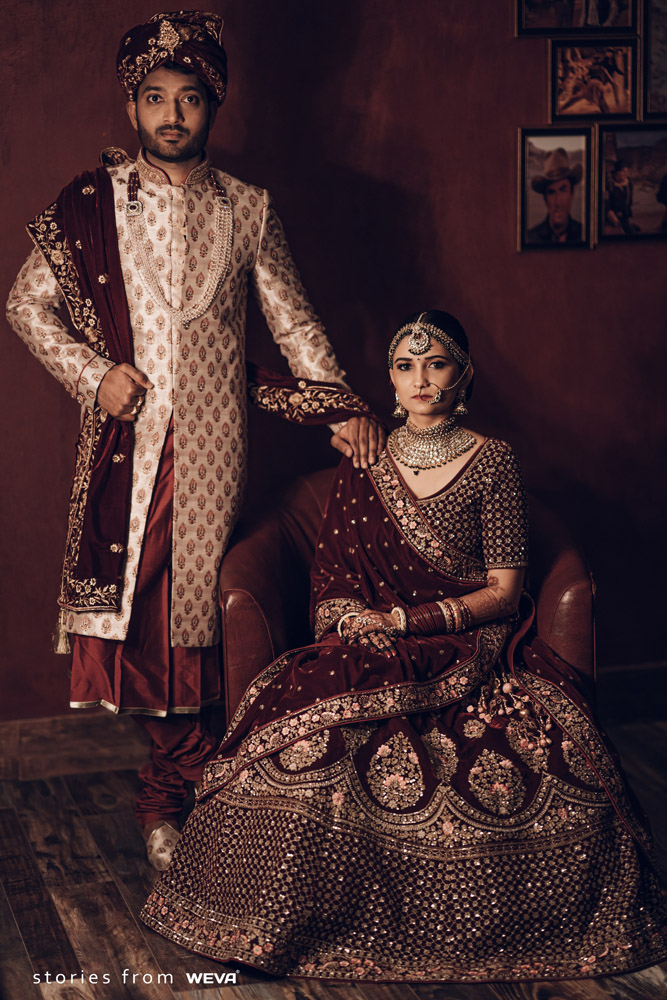 Clearly, the royal wedding theme has been broadly used all across the nation and it is
something that is highly preferred in destination weddings by the soon-to-be weds.
Not only the dressing etiquette but also the poojas and Rasams have been drawn
inspiration from! Also, elements like the Turban, unique dhoti draping styles and
customary bridal entries are some of the inseparable features of this style.
3)Summer Dream
Talking about the royal wedding outfit styles, muted colors like off-white and beige
have stolen our attention ever since the woke of viral Bollywood wedding outfits.
And, we see a mix of culture and traditions in both groom's as well as bridal looks. From
pure Punjabi elements to Bengali and Rajasthani features, the couples of 2022 love to
curate their own looks by handpicking their favorites from different cultures.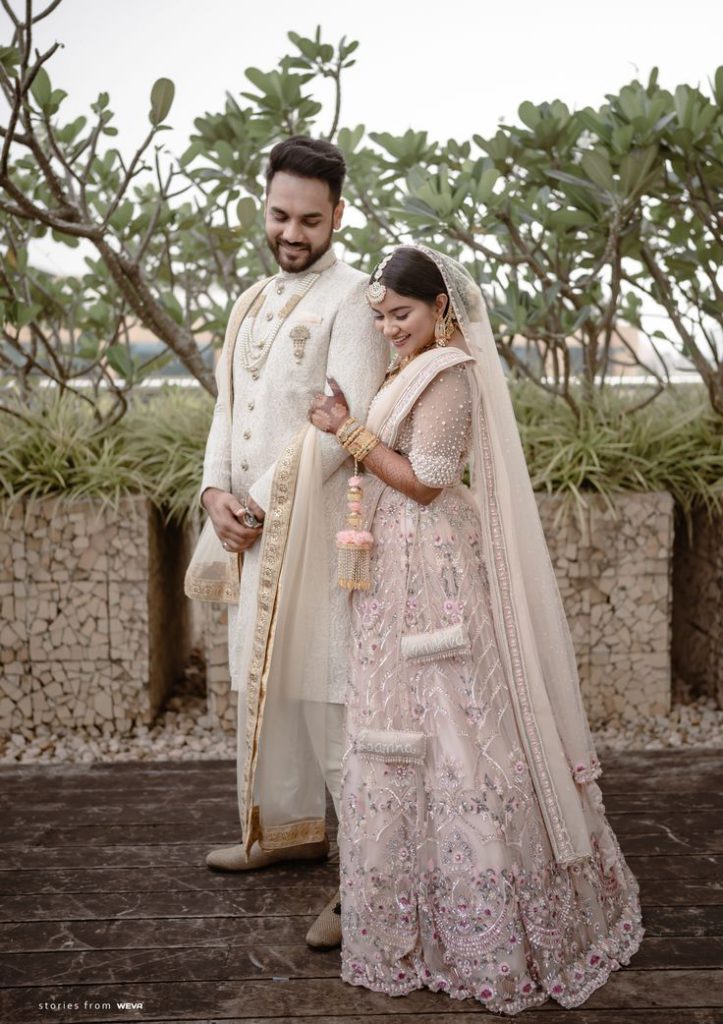 Interestingly, it might not have anything to do with the Rasams or poojas they are
attending. But, the aesthetic factor still wins over comfort and ceremonial highlights.
Hence, we see a beautiful blend of lehenga cholis and Indian suit combos that are
finished in muted palettes, carrying traditions of different parts of the country!
4)We are Twinning!
Colorblocking or twinning in monochrome is so much fun and simple to put together
a neat, elegant look. No matter how jolly or low-key the function is, monochrome
looks can be achieved in all genres of wedding fashion. From Christian church
ceremonies to traditional temple weddings, we have been seeing couples matching
their outfit styles and colors for the longest time.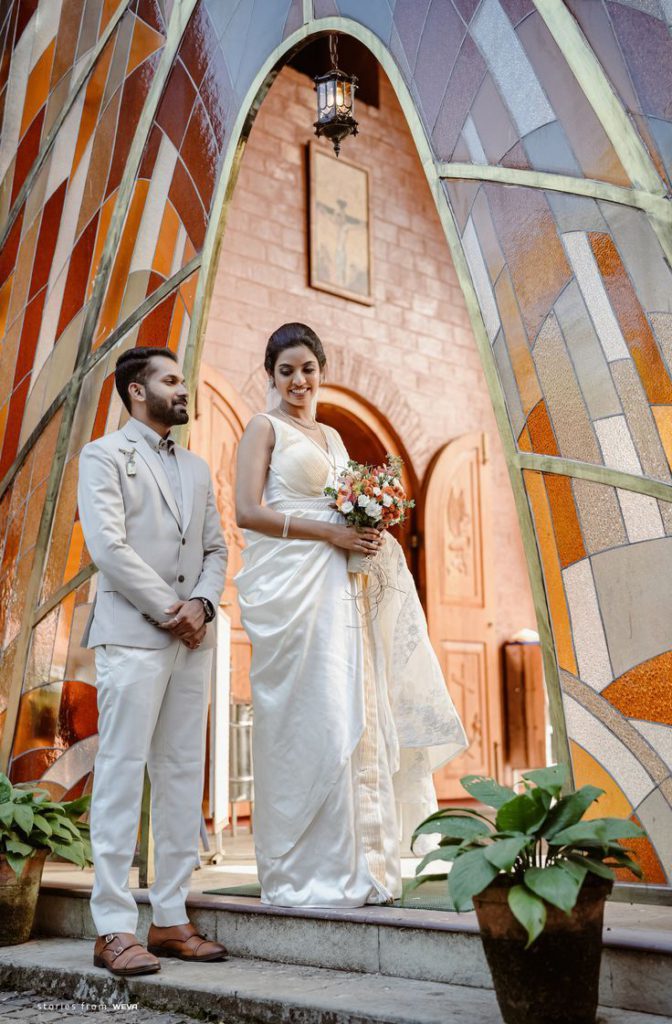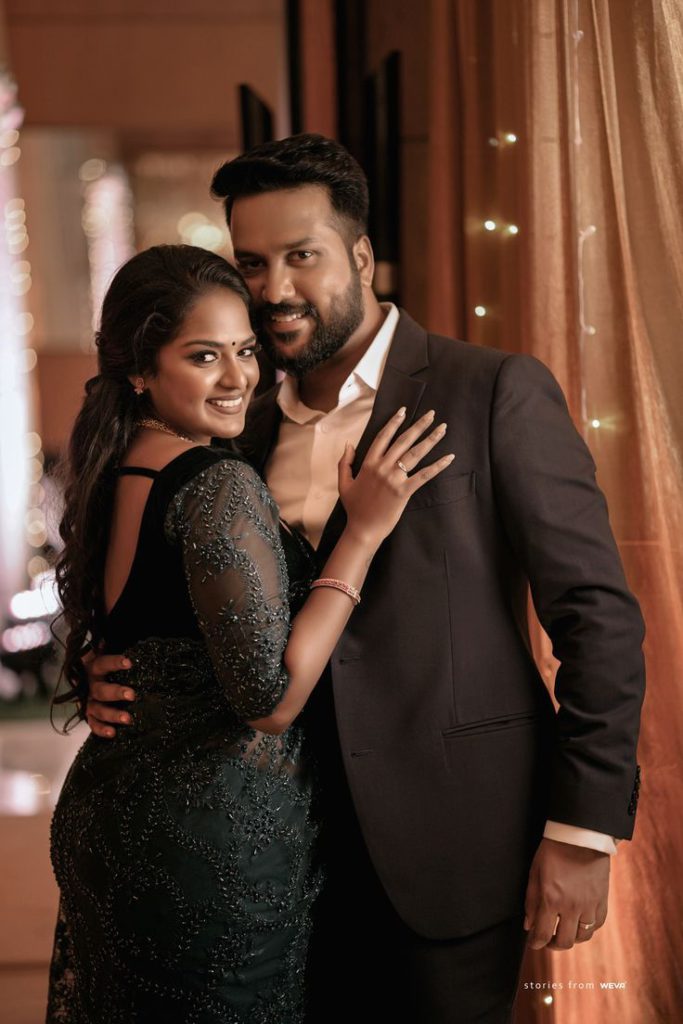 Here, the trickiest part is curating something different that cannot be labeled as cliche
or common. Evidently, efforts shall be put in to perfect both the groom's and bride's
lookbooks with equal attention. Focussing on the detailing and accessorizing can have
a huge impact on creating unique monochrome looks that are refreshing to our eyes!
5)The Kasavu Edition
Kerala Kasavu outfits have become crowds' favorite in several parts of the country.
Unquestionably, 80 percent of the 2022 couples have something that has Kerala
Kasavu saree or mundu in their outfit lists. At times, the couples prefer these glossy
golden looks for engagement parties.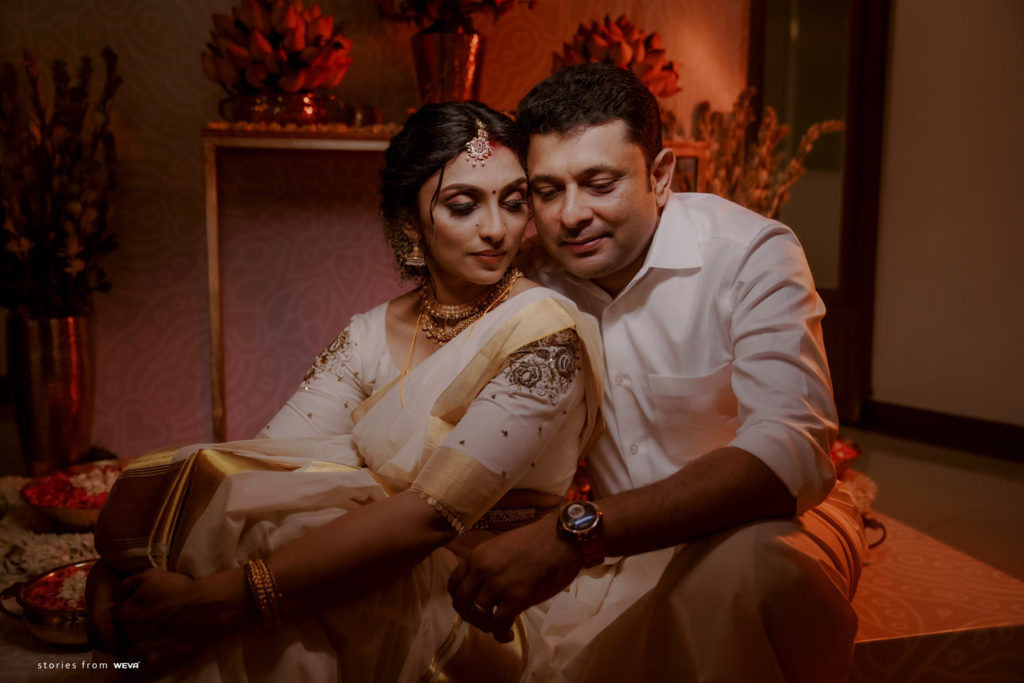 And in other cases, it appears in post-wedding Rasams and reception parties. Here as
well, most jodis prefer to coordinate their fits by opting the same fabric and finish.
Dhotis or mundu looks paired with a soft silk Kurta are among the most-loved looks
in 2022 grooms' wedding fashion trends. And, Kasavu saree or lehenga cholis
created out of authentic Kerala Kasavu fabric are some of the favorites in the famous
bridal looks of 2022.
6)The Church Wedding
Puffy bridal gowns paired with legendary suit combination is a common yet evergreen
look that can be spotted all across the globe. A neatly fitted suit in dark shades and
snow-white bridal gowns of any cut is one of the most oldest and precious looks of
Christian wedding fashion. To highlight, ink blue, jet black and beige shades are some
of the common tuxedo colors in grooms' attires.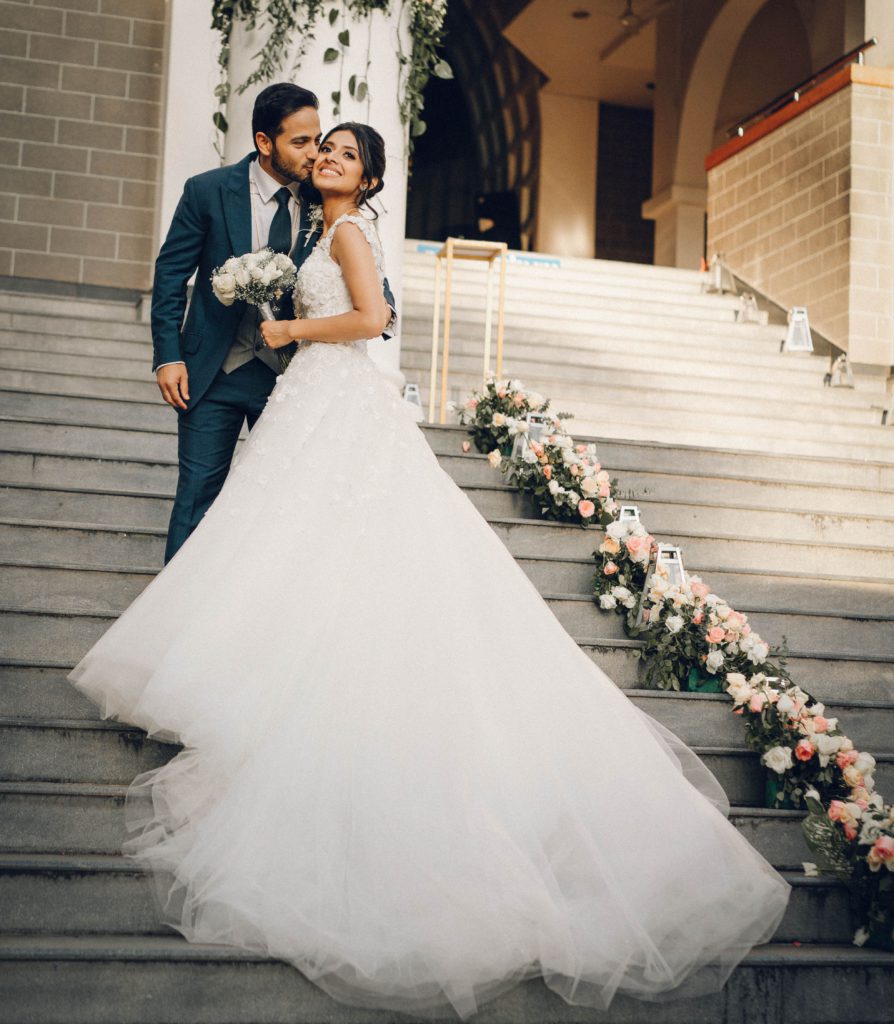 When it comes to the bridal gowns, silhouetted cuts and mermaid patterns are
receiving so much love. Also, bow ties, oxford shoes and special edition wedding
long ties are some of the other significant parts of the groom's wardrobe.
Likewise, long veils, illusion necklines and minimal jewels are all must-haves of the bridal
trousseau!
7)The Print Dhamaka
Compared to the casual solids that we often see in grooms' wedding fashion, prints are
something that is still under construction. To highlight, peppy prints are something
that is still evolving for both bridal as well as groom's fashion. Though tiny prints and
patterns are quite common on Indian suits for grooms, boxy prints are yet to make
their entry.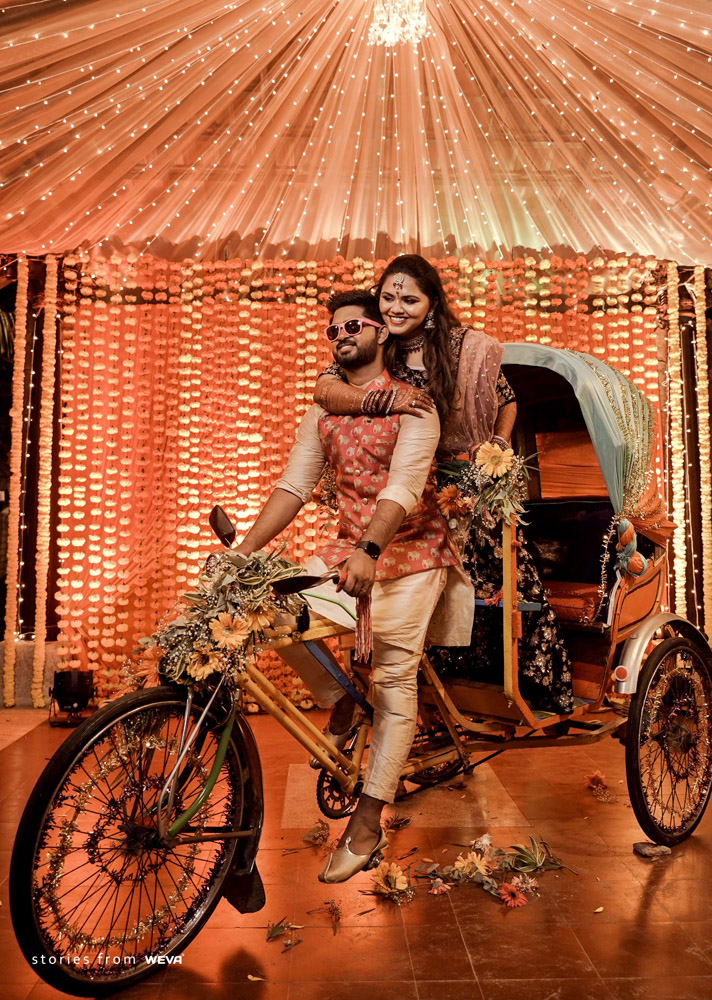 In other news, informal ceremonies like sangeet, Mehendi and Haldi have been
hugely blessed with prints on prints aesthetic recently. Clearly, the bridal fashion has
been going head over heels with textures, patterns and prints. And we are eagerly
waiting for more printed outfit combos in Shaadi outfits in the coming season!
8)Different but Same!
Mismatched combos have successfully grabbed on to the hot trends in wedding
fashion. Certainly, unusual Shaadi colors like blacks and whites have been a
conversation starter especially after being spotted at celebrity weddings. Apart from
going mismatched in the colors, couples also love blending different styles and genres
as well.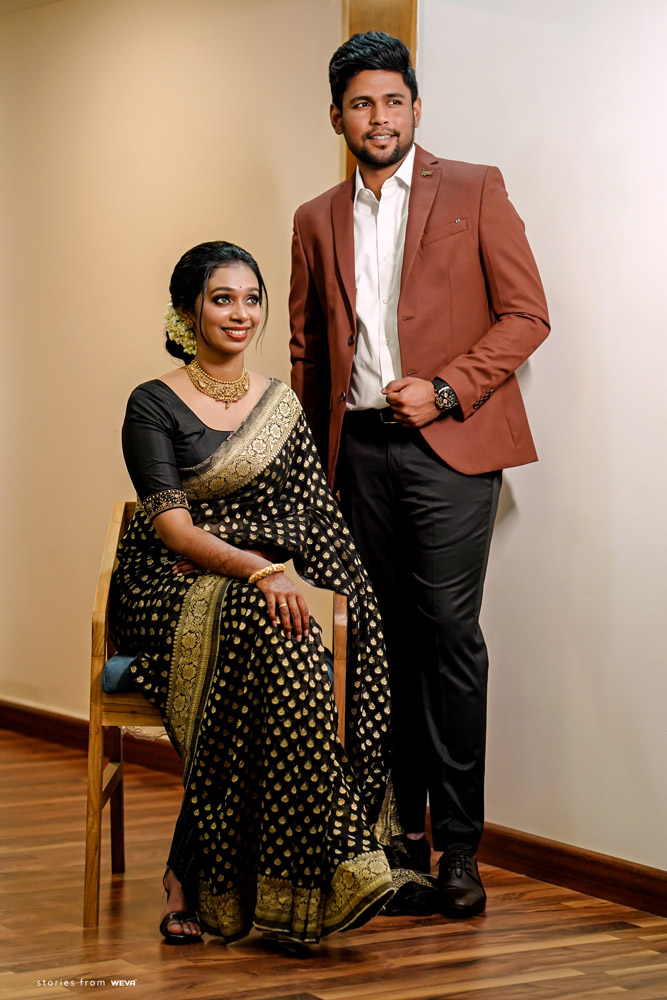 As seen in the photo we have showcased here, our gorgeous bride is wearing a jet
black festive saree outfit. And, our dashing groom has gone for tropical vibes with a
summery blazer in vibrant brown. The contrast in the combo is quite exciting and
something new to our eyes.
We hope you had a great time exploring the trending outfit combos of the 2022
wedding season. We have listed out the top 8 combinations that are hot and trending
as of the current daily updates. From sassy experimental styles to classy, evergreen
lookbooks, our curation has something for each and every one of you.
And, we feel that it's great to have a quick analysis of the above-listed attires before
finalizing your own looks. Sassy or classy, your choice is solely up to your comfort
and style preferences. And we feel happy to have shared some trends of the season to
help you come up with interesting ideas!