Are you finding it difficult to create the coolest wedding board for your own wedding
bash? Would you like to have a quick read about the latest wedding board designs
of 2022 before you make your final decision?
Our team has prepared some cool wedding board inspos to help you customize yours
with the most unique elements in wedding decor. We have been guided by the
famous wedding photographers in South India and the most talented wedding
cinematographers in Kerala while shaping this curation. Grab your favorite snack
and get ready with your notepad for a relaxing 5-minute read!
1) The Glossy Glass Frames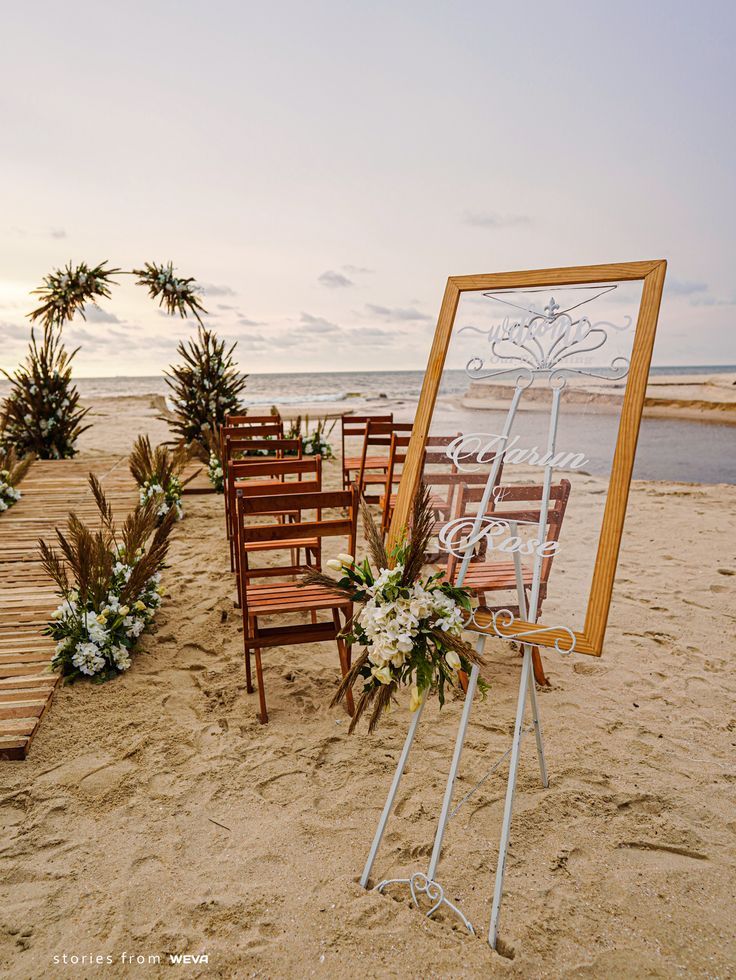 as the location itself is powerful enough. Hence, the transparent wedding board
trends can give you a complete visual experience of the beach beauty. As we see, the
wedding board portrayed here is super simple in terms of colors, decors as well as
materials.
Added to that, the display board perfectly matches the theme and the overall palette of
the intimate ceremony showcased here. Apart from a single unit of floral decor, we
don't see any extra elements on the ground or as an attachment to the board.
2) The Vintage Chalk Boards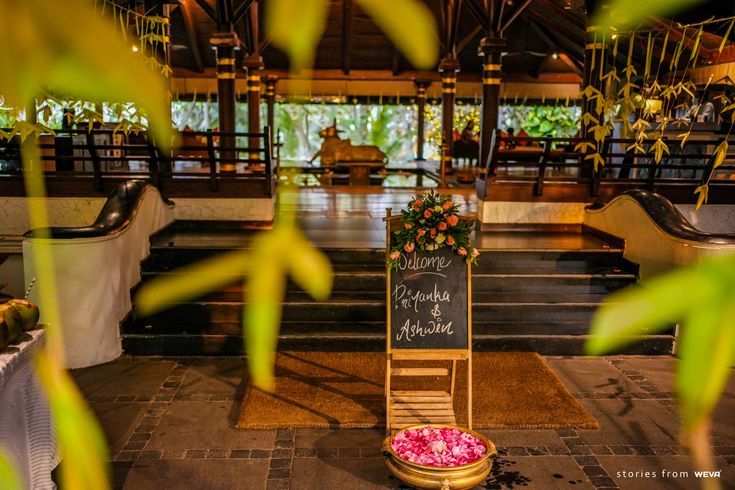 Traditional Kerala Hindu weddings have evolved to a surprising extent when it comes
to wedding fashion, event decor and rituals like bridal entries. But, certain vintage
elements can never be forgotten such as the vintage chalkboards and the traditional
pattern of event decor. To point out, these boards were used for various purposes
including public announcements.
Bringing back this vintage selection as a name board can bring in lots of nostalgic
memories from one's childhood. And, it is an amazing choice to add some quirkiness
to the otherwise semi-modern or revised Hindu wedding decor trends of 2022. Most
importantly, flower-filled brass vessels and wooden showpieces of old Kerala
households make a perfect match with such wedding boards.
3) Woody But Plywoody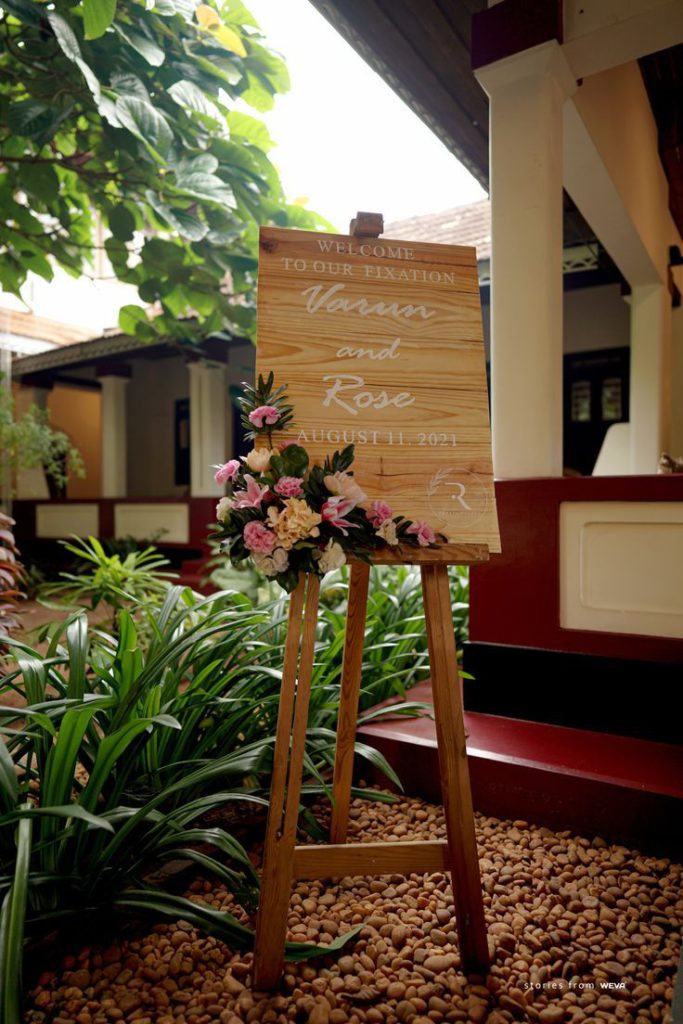 Classic wooden wedding board designs give a strict cottagecore feel even when it's
finished in plywood. Also, the wide variety of interesting textures one can source in
plywood is beyond exciting! With respect to the texture and shade of the wood, the
writing can be designed in beautiful, breezy running letters. To accomplish that soft
cottagecore aesthetic, minimal flower baskets and hanging decor can be tried out.
Oftentimes, the wooden board winds up as the star of the show without any added
decor elements just as we discussed above. While placed outdoors among the calming
garden greens, wedding boards of these kinds manages to steal the stares in less than a
second!
4) Mirror Mirror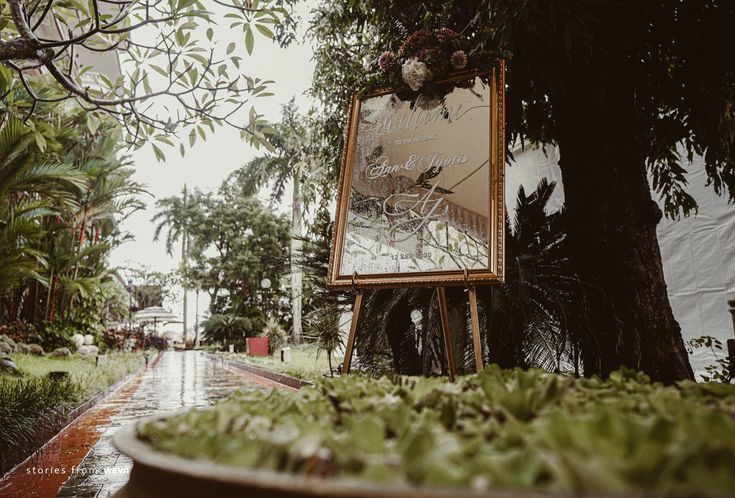 Who wouldn't fancy a mirror board to carve their names for polishing their fairytale
wedding aesthetic!? From giant rectangular shapes with sharp edges to uncommon
circular shapes, the latest mirror wedding board designs flaunt in every possible
shape. It indeed is apt for spicing up the event decor frozen finishes and freshly
plucked white flowers.
Contrasting to the cliche selections seen on a day-to-day basis, boards framed with a
well shaped mirror piece, are a piece of cake to the wedding decor enthusiasts. To
highlight, this aesthetic blends effortlessly with both modern as well as traditional
styles.
5) Murals for a Change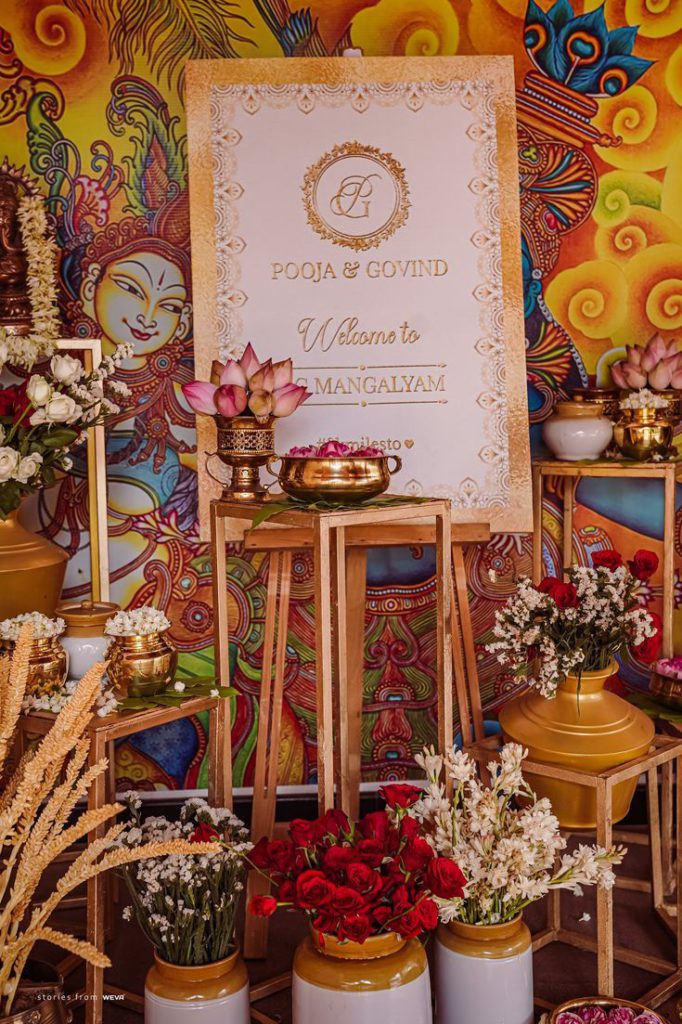 While approached with a maximalist mind in wedding decor, there are quite a few
ideas to create a grand design in wedding boards. One of the noticeable trends is to
curate a theme-based arrangement. Here, we see an amazing mural art placed right
behind the wedding board, creating a mood of rich Kerala heritage and wedding
traditions. The board has been finished with a shade of glossy gold and off-white
shades.
Added to that, we see a set of traditional Kerala crockery and vessels. The brass and
clay vessels are holding seasonal flowers that are dedicated to South Indian Hindu
wedding traditions. To point out, we see jasmine, lotus and red roses along with
foreign blends that are locally sourced.
6) Pinteresty Edits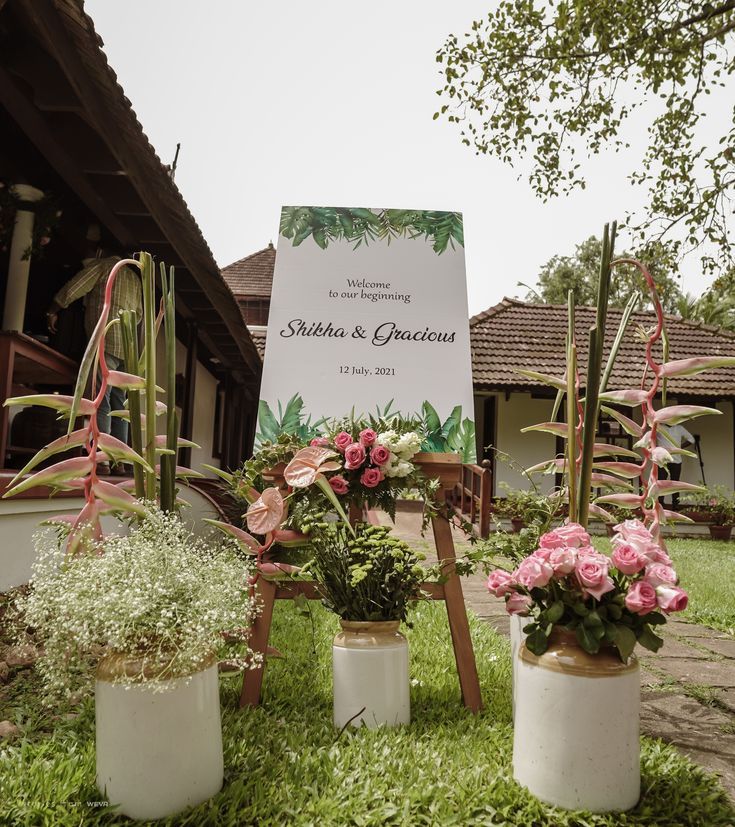 In the above excerpts, we were keenly discussing the importance of traditional vessels
and crockery while working on a theme. Well, these legendary elements of Kerala
heritage can also be used to create a beautiful blend of traditional and contemporary
wedding board designs. While the wedding board remains minimal with a slight hint
of green, the surrounding decor pieces strictly adhere to the traditional era.
Interestingly, these clay vessels are holding a selection of flowers that reminisce the
Western Christian wedding aesthetic. Moreover, the soft pastel color palette of the
overall display is yet another resemblance to the contemporary styles in 2022
wedding boards.
7) Snowhite Supremacy
Monotone wedding board trends in 2022 are still giving us goosebumps with their
simplicity and charm. From top to bottom, the piece is dripped in a single color,
mostly whites, pastels or wooden shades. The flower crown if present will also
display the same color supremacy with selected flowers or ribbons.
Here, we get a satisfactory output that shows some effort. Whereas, in reality,
minimum efforts were required during the preparation. One must ensure that the
canvas structure and the frame are finished in the same color without fail. It in turn
helps in attaining the very minimum discipline and uniformity required to craft this
look.
8) Circular & Sassy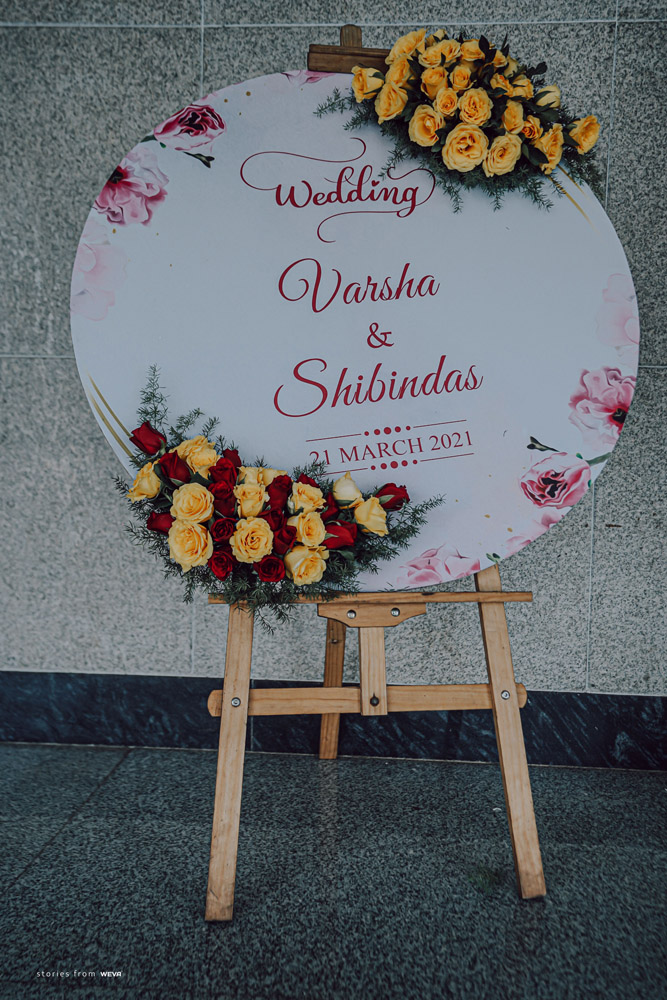 Instead of sticking to the common board shapes, it is always exciting to choose an
unfamiliar circular or abstract shape. Certainly, it grabs more attention with its
interesting shape and decor if added. To be precise, decorating an imperfect board
shape is much more challenging and entertaining as compared to the often-seen
rectangular portrait sizes.
One can also figure out the shape with respect to the position and placement of the
wedding board in the venue. At times, we might require a clean-cut rectangular board.
And, in other situations, a fluidic peppy shape might be interesting, also considering
the type of festivities.
9) Classic Wooden Tales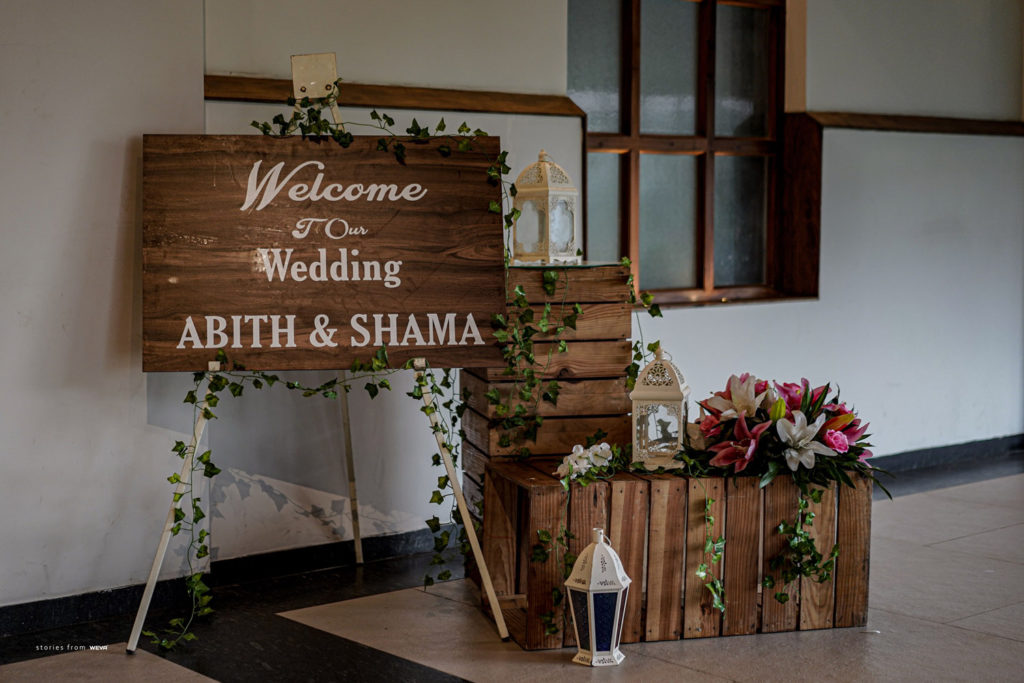 A thick teak board put together in panels can be the most ideal choice, if one is
hunting for a dreamy cottagecore wedding board design. There is nothing more
pleasing than a freshly painted board in classy Italian fonts. The decor shall be as
natural as possible with wildflowers, grass and garlands.
Added to that, one may add antique finished lanterns, vases and wooden goody boxes.
Warm lighting and musky scents shall be added for a complete cottagecore experience.
Added that one must take great care to maintain the overall decor in sturdy old
wooden material with a dark vintage tone.
10) Dreamy with Fairylights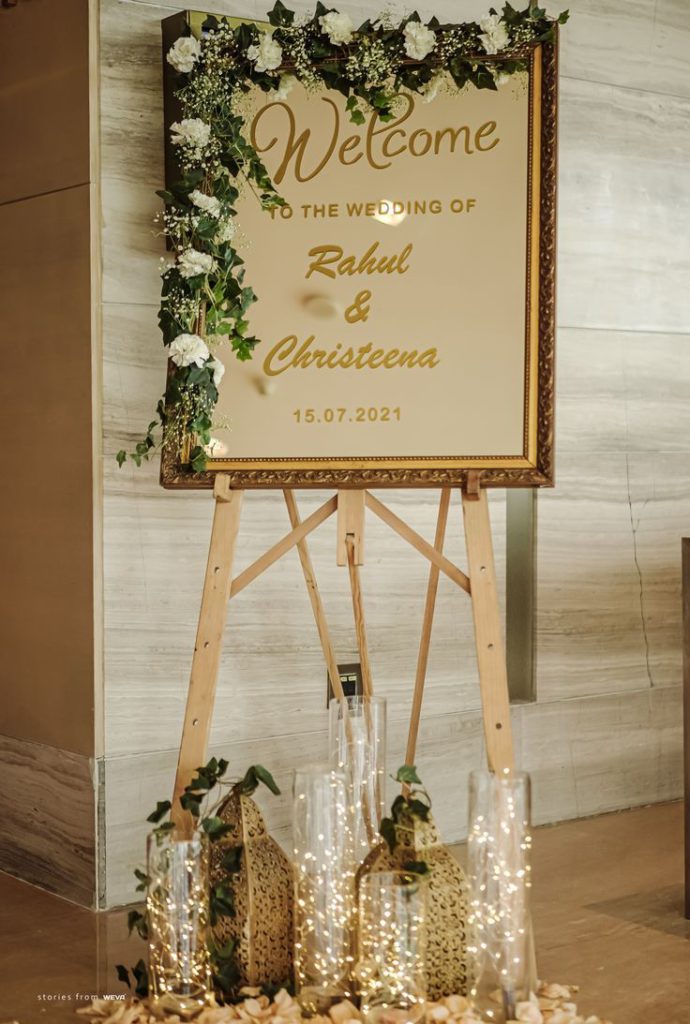 As we have already discussed in detail about the wedding boards for daytime
wedding festivities, we shall now discuss the importance of artificial lighting on
wedding board designs for night events. Though fluorescent LED lights shall be
excellent to create a pleasant fairytale wedding aesthetic, warm fairy lights are still in
news with their irresistant cuteness. Bendable LED lights stacked in glass bottles have
been the most-loved wedding deccor trend of 2010s.
Clearly, these flexible LED light wires leave us with a number of options for wedding
board decor. From lighting up the flower crowns on the board to decorating the legs
of the structure, we are still amazed by the new additions and updations in this
affordable lighting choice.
We hope you had a great time flipping through the amazing ways through which you
can customize your wedding boards. From minimal wireframes to luxe statement
pieces, wedding board trends of 2021 and 2022 have been smashing our phones for
a long time now.
Cottagecore, contemporary, traditional, semi-modern, the list never ends and we are
not surprised at all if you are feeling clueless. Our curation aims at educating you
about the best designs in wedding boards that we have captured and documented.
We hope you found your answers having read about the countless choices you can
consider to build your dream wedding name board.