Are you planning to have a fun shoot session with your loved one in the comfort of
nature-hugging cozy venues? Or are you feeling confused about the venue for your
much-awaited shoot session in nature? We have a bunch of buzzing ideas lined up for
you!
With the help of the best wedding photographers in Kerala, we have curated a list
of best nature-themed couple portrait ideas for curing your dilemmas! From easy and
hassle-free last-minute ideas to a fully planned session for the near future, our list
covers different options for all the nature enthusiasts out there! Join us to have a fun
virtual treat about the best venues for nature-themed couple portraits!
1) Morning Glory
Farmlands and fresh green nooks of Kerala landscapes make the perfect location for a
countryside couple portarit session. Evidently, keeping the palette neat with just green
and blue hues helps to divert the focus to the details of portraits. Added to that, it
definitely gives a soothing touch with just some serene greens and no crazy neons or
warm tones.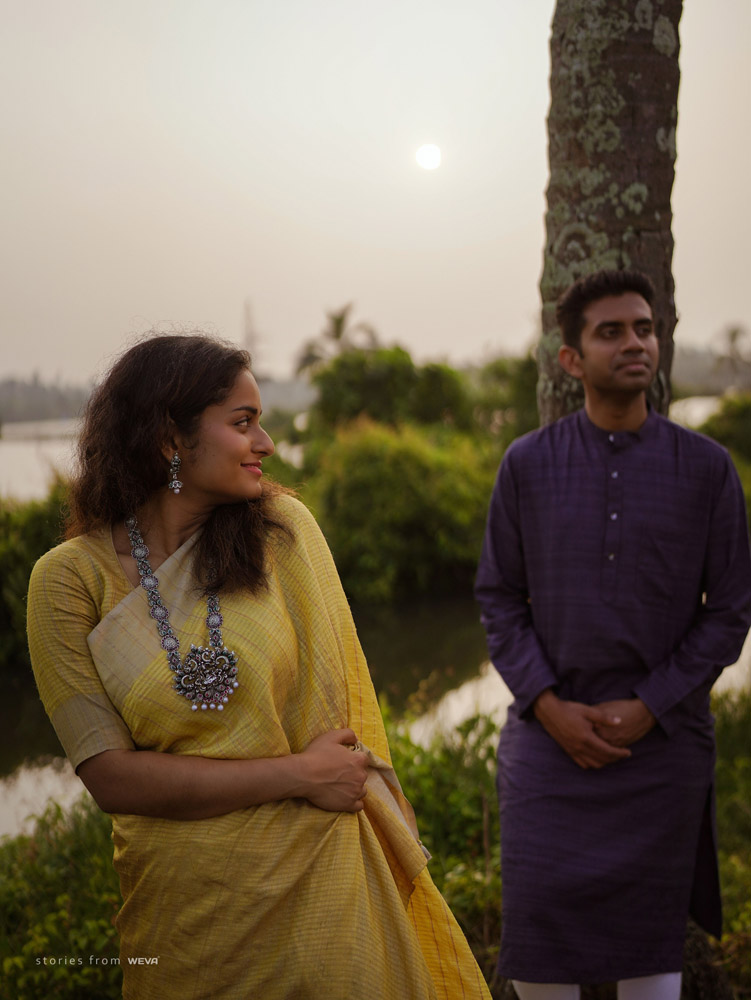 Upon studying the portrait we have showcased here, early morning rays have created
a magical vision that beautifully syncs with the overall aesthetic and freshness. For
countryside ethnic themes like these, the outfit preferences also play a crucial role.
2) The Island Hues
Talking about shoot sessions at island beauties, the golden hour does play a very
important part in elevating the mood of portraits to a whole different level. Here, we
have gone for a contemporary approach in the curation. Monochromatic twinning
outfits and moody vintage green tones make the images much more expressive and
precious.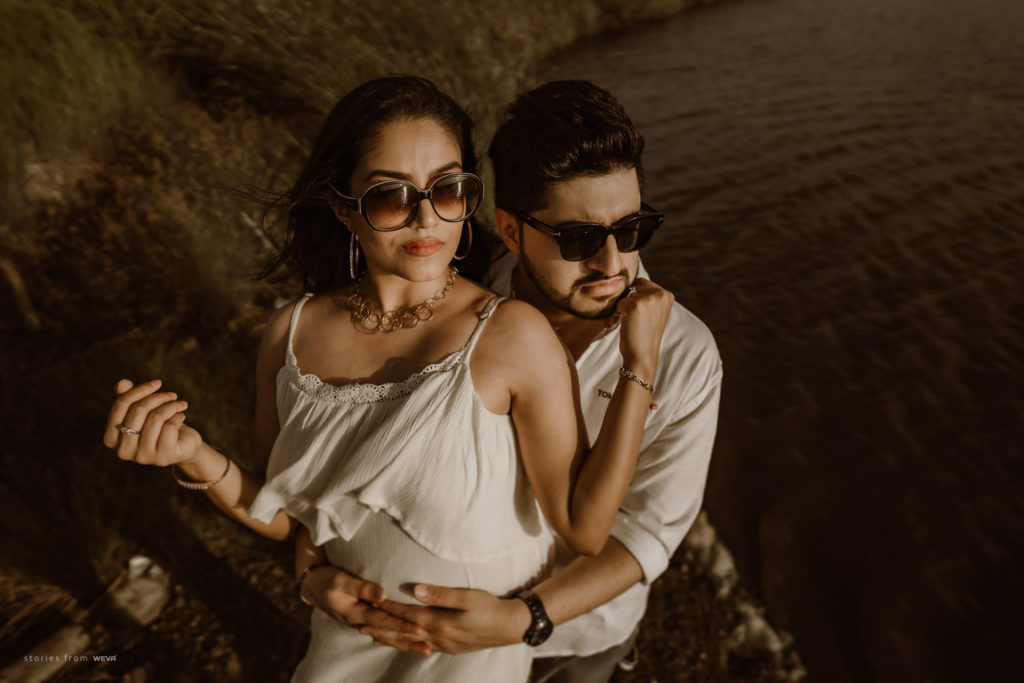 Though the location is giving a strong countryside feel, we have managed to create a
stark contrast in the theme of the shoot by planning the poses and outfits accordingly.
Rather than going for a mellow pastel touch, the image displays an editorial pattern
with relaxing neutral undertones.
3) Juicy Green Gaze
Hunting down a dense tree cover could be the best if you are looking for a rainforest
touch in the available shoot premises. To point out, wedding portraits like these could
be curated by walking around the premises and blocking suitable backdrops as per the
availability.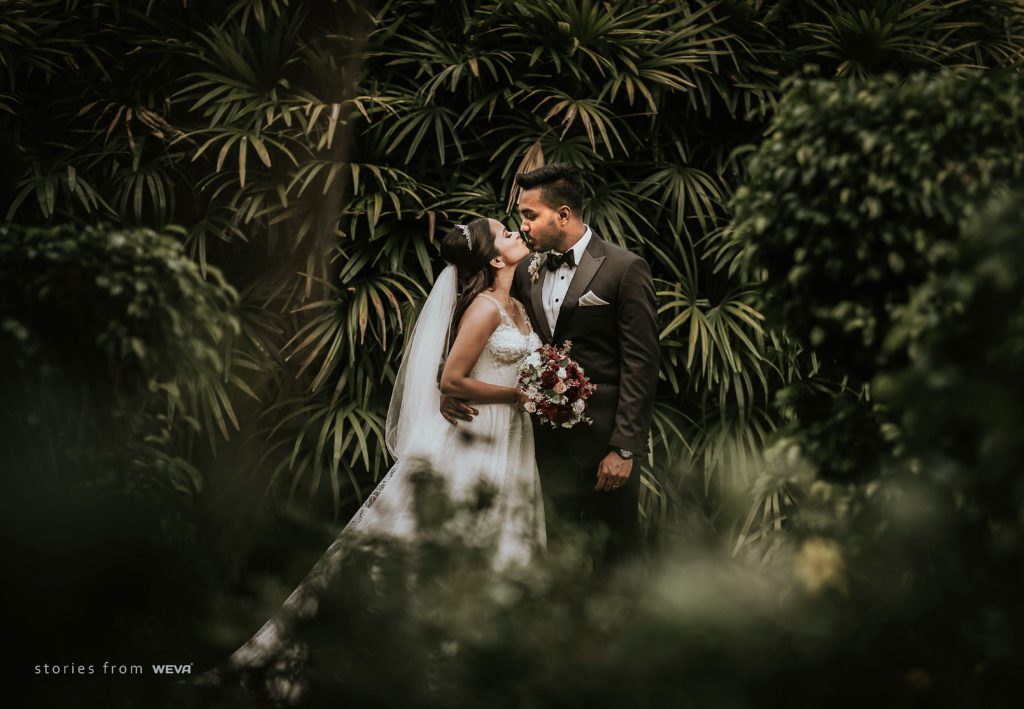 Reaching the venue early to get familiar with the location shall help you with such
tasks perfectly! Irrespective of the style and theme, dense green backdrops blend well
with almost all genres of couple portraits and singles. Most importantly, playing with
the light and shadows shall also deliver the best results in natural daylight.
4) The Bougainville Tales
Who said portraits in nature shall be strictly just green hues!? If you spot any
Bougainville nook corner, make sure to grab the spot and plan some quirky candids.
Evidently, lehenga twirls and in-motion semi-candids work the best with a strong
punge of pastels and greens. Clearly, considering a pop of color in your in-nature
portraits can create tremendous changes!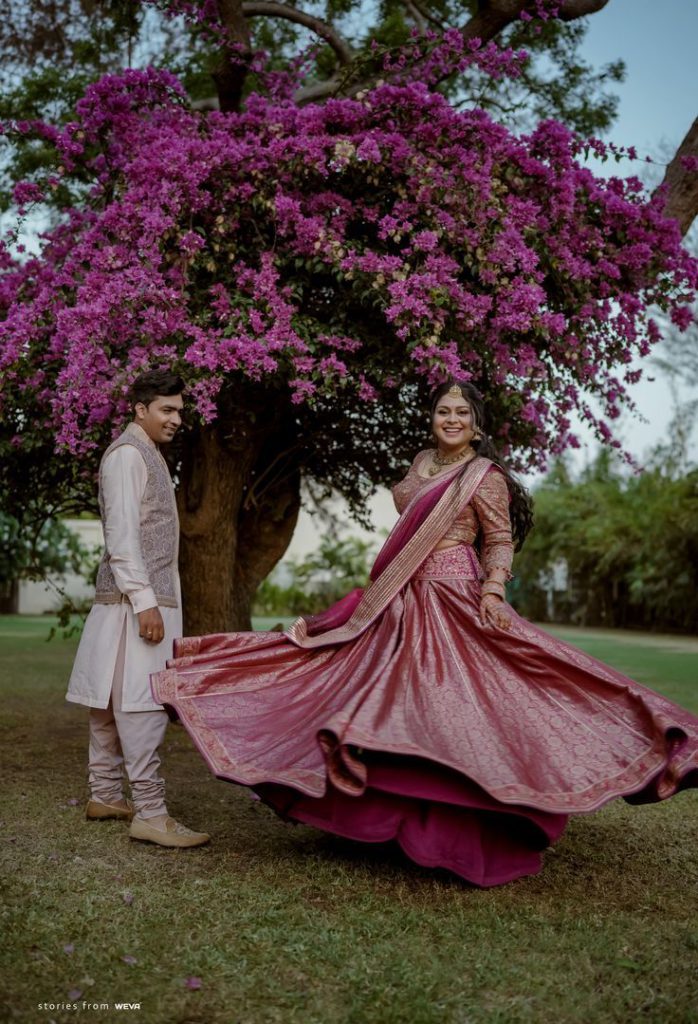 Not to mention, the lovely mix of greens and pastels create a pleasant visual
experience as well! To highlight, one shall make sure to experiment with the colors in
the flowers and enjoy the process during the curation. And, study the sync between
the backdrop and the attires of the couple if you wish to bring a classic
color-coordinated custom touch to the images.
5) The Garden Chitchat
Talking about Bougainville portraits, gardens and farmlands are the best if you would
like to have some colorful nature portrait ideas mentioned above. In case of
preplanned pre-wedding or just casual couple shoots, consider your favorite garden
spaces and farmlands to have more choices for color blocking in the frames.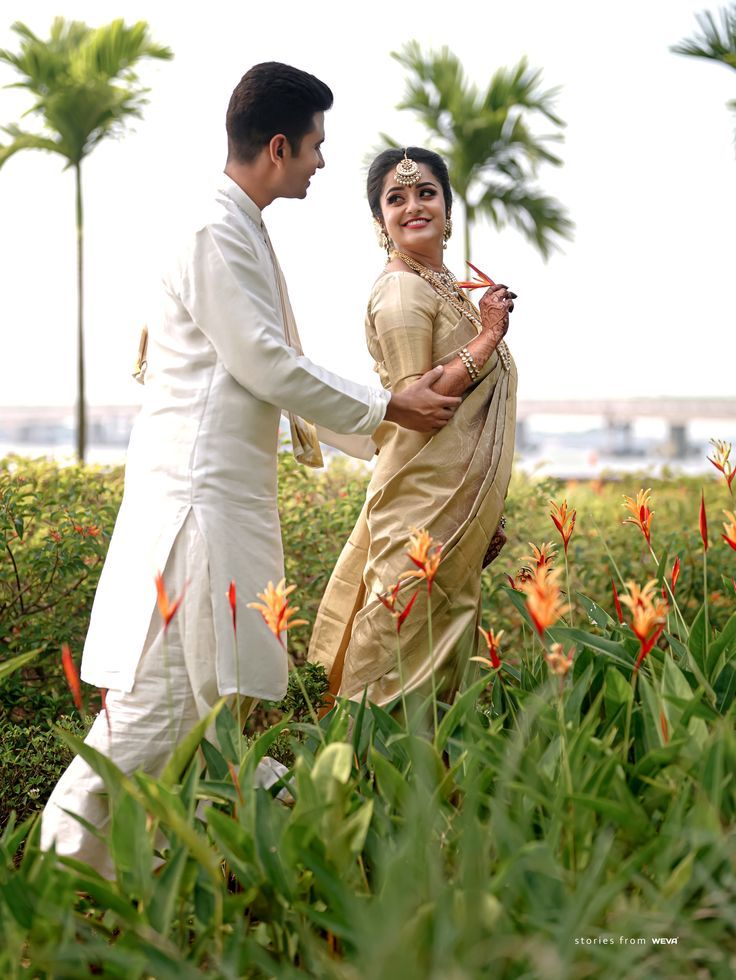 Interestingly, outdoor shoots can turn out to be much more picturesque in dense
gardens and forest covers, if planned with care. Prior visits to the venue shall give you
a clearer idea about the different possibilities, all dipped in nature! Though the
concept shall sound a bit cliche, there are countless ways to make it more creative and
unique. For example, ditching the common camera angles for something new.
6) Love at the Ocean
When it comes to latest nature portraits of couples, beach venues are still smashing
the charts! If you wish to have a green space with a vague view of beach sands and
waves, try to hunt down private beaches with similar features. Most beaches happen
to have a flourishing green cover along their length.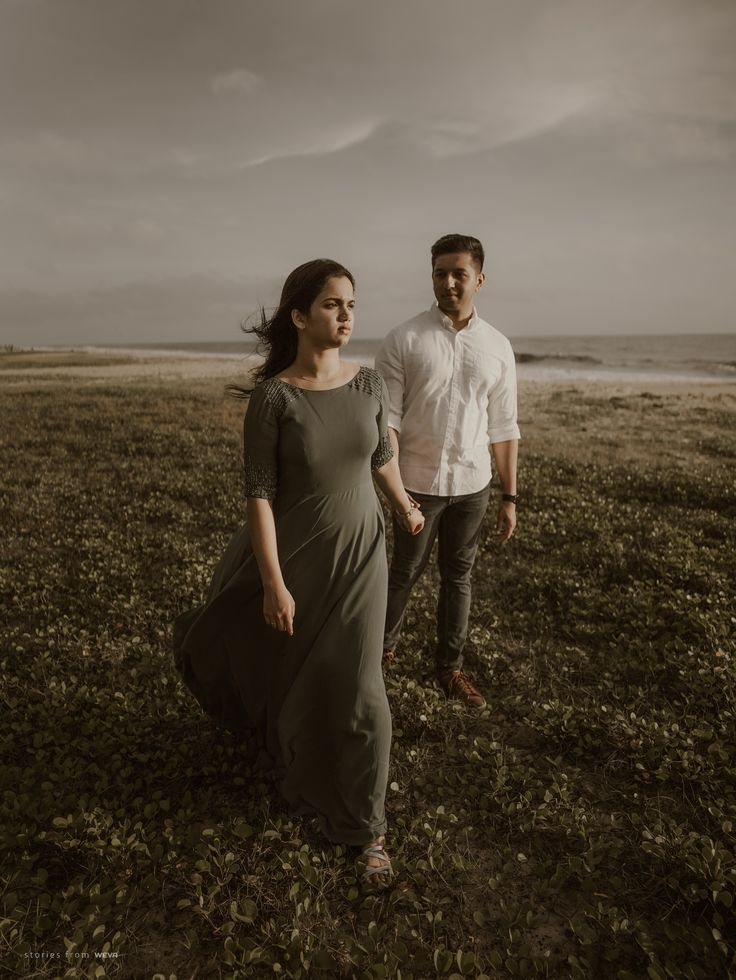 Thereby, you can try different frames with full beach views and partial peeks as well.
As compared to the other options like islands and farmlands, beach portraits are
highly unique. Especially, in terms of its color palette and overall mood. Occasional
winds and seagulls up above the sea are enough to build an editorial series, with
systematic planning!
7) Forest Greens
Plantations and rainforests are impressive choices for real nature enthusiasts who
solely aim to spend some time in the greens during their cozy shoot session. Clearly,
earthy monochrome palettes are the best for such deep foresty hues when it comes to
outfit thoughts.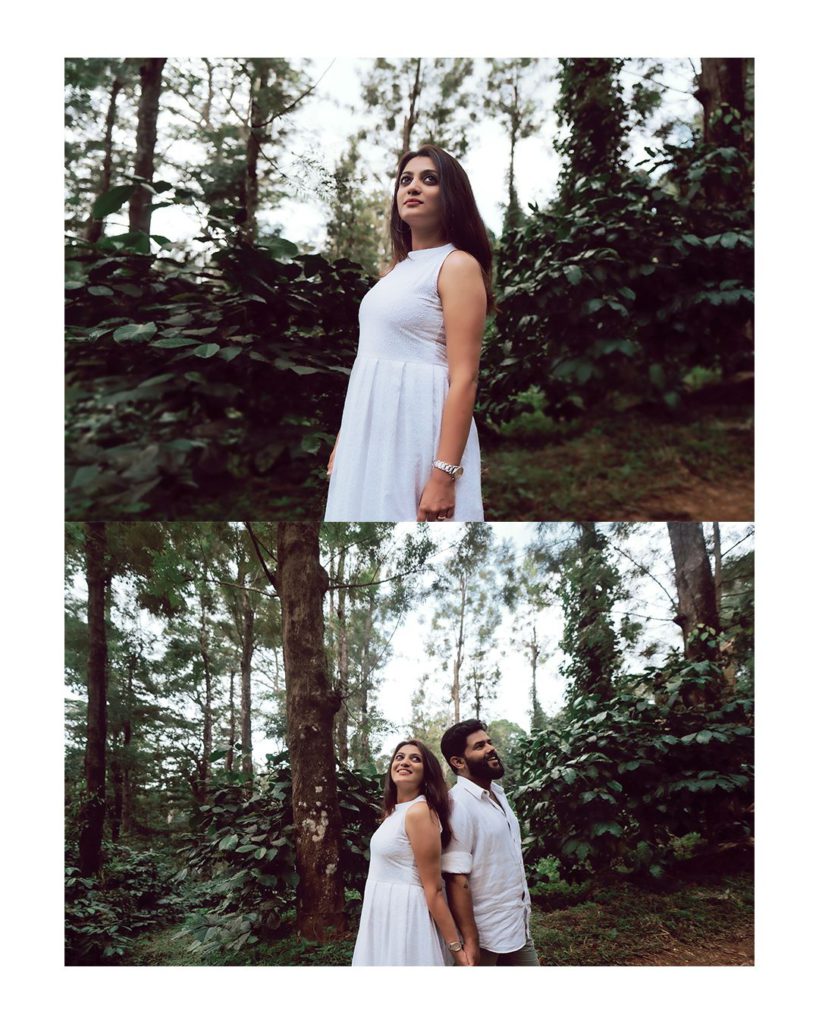 From dark rainy mornings to sunny evenings, plantations and rainforests hold great
potential for creating famous couple portraits in nature. Our signature palette for
frames like these revolves around relaxing natural tones. Over manipulation and
grading trials shall kill down the real raw beauty of these venues. It is a great
opportunity to try the unexplored camera angles and artsy ideas you have in mind
under the great grandfather trees in thick forest covers.
8) Misty Mountain Aesthetic
If you dreaming about dewy morning portraits with pleasant lighting, planning a cozy
morning at the hill-station could be a great idea! Hiking up to the top early morning
for the best view would be a good kickstart to the day. Clearly, it sounds like a fun
shoot ideas for nature-themed couple portraits.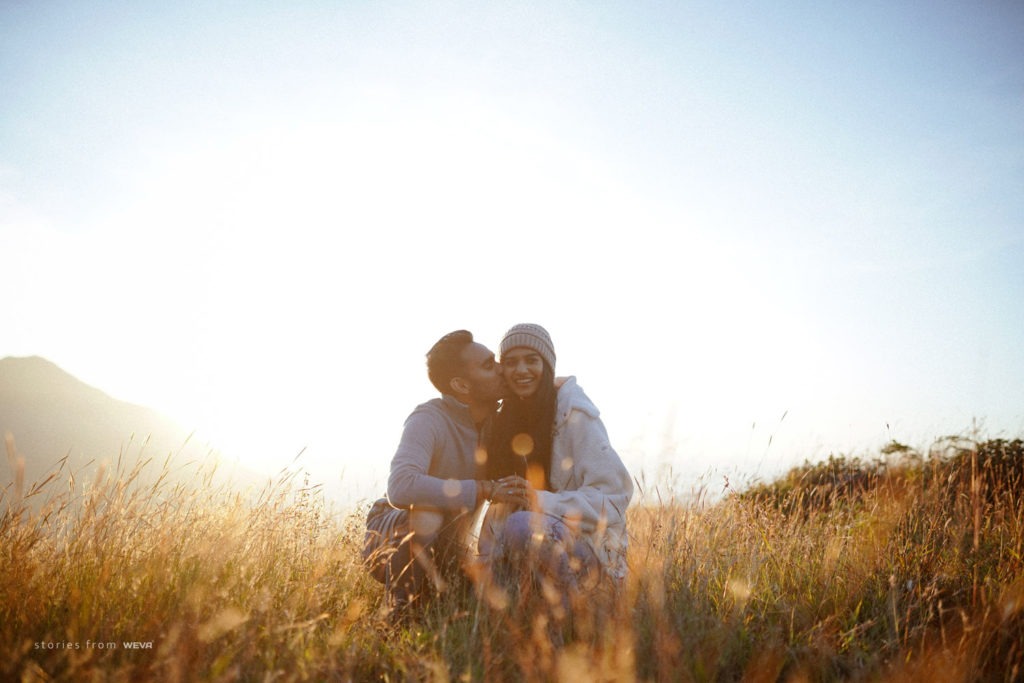 The image we have showcased here is an exercpt from an interesting proposal
moment, at the top of Munnar hill-station in Kerala. Surprise proposals, save-the-date
shoots, post-wedding getaway! Ideas are endless when it comes to nature-hugging
portrait ideas and discussions like these.
We hope you had a great time skimming through our ideas for nailing couple shoot
in nature. From last-minute frames to pre-planned getaways, there are infinite ways
to build some energizing nature portraits.
You shall plan your pre-wedding shoots, post-wedding vacays, surprise proposals and
even chilled wedding portrait sessions after the hurry-burry wedding events. There's
nothing more soul-cleansing than spending some hours in nature with your loved one.
And, treasuring those moments with the best photographers for couple shoots shall
certainly bless you with beautiful memory bursts in the future!