Have you been facing difficulties in curating your wedding venue's floral decor? Do
the daily discussions with your florists add more stress to your wedding planning? Or
would you like to have a chilled-out session with us about beautiful ways to do
flowers in wedding decor.
We have curated an exclusive list of methods and options to use flowers in wedding
decor creatively and uniquely. From basic design elements
to never-seen-before interesting ideas, we have a whole list planned to ease your
worries! We have been guided by Kerala's best wedding photographers to come up
with this special curation. Get your snack bowls ready as we take you through this
virtual treat!
1) Wedding Board Detailing
Who doesn't love drama on wedding name boards especially when it's curated with
garden-fresh floral decor!? To create one's own unique design of wedding boards,
flowers can be added in exciting ways. From beautiful flower crowns to hanging
garlands, it's a joy to the eyes to spot fresh flowers on name boards. Also, floor resting
accessories like flower bowls and vases spice up the look even more.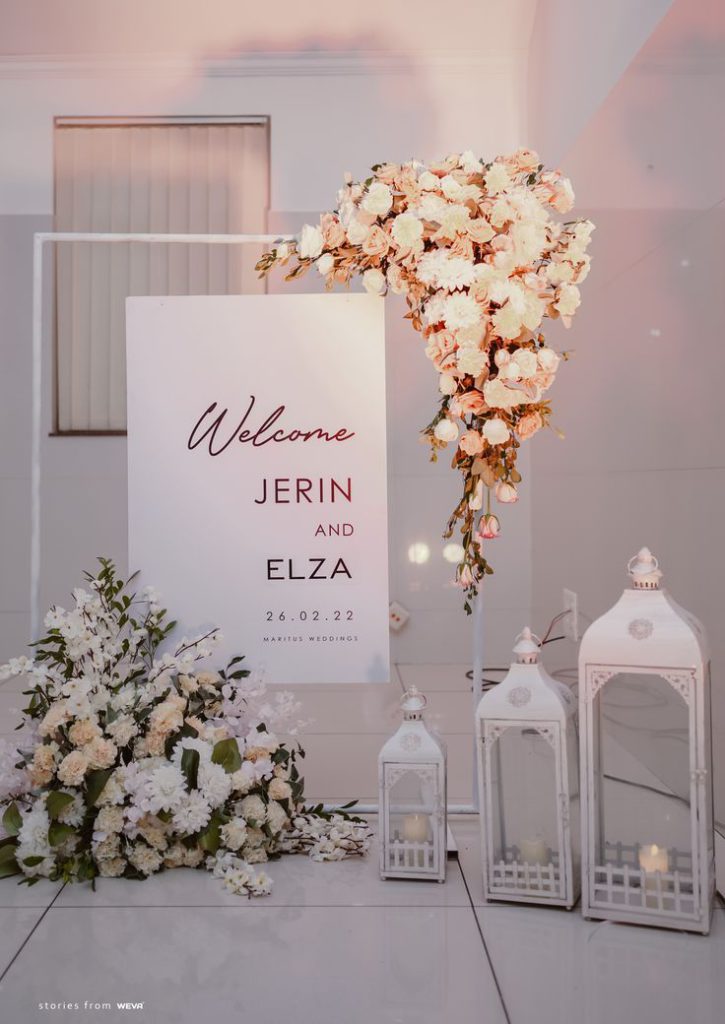 And, warm lighting or mini LED lights can be added to finish the look with a teeny
bit of drama. To support dramatic floral decor, frames or supports can be used. Notify
your florist with your favourite pick of flowers beforehand for creative customizations.
2) Luxe Letter Decor
Along with wedding boards, floor resting alphabet castings are also a 2022 wedding
decor trend. Certainly, it helps to create luxe feels while the casting leaves space for
floral stuffing inside or around the alphabets. Though playing with the first letters of
soon-to-be weds is nothing new, alphabet floral decor is something that still excites
us.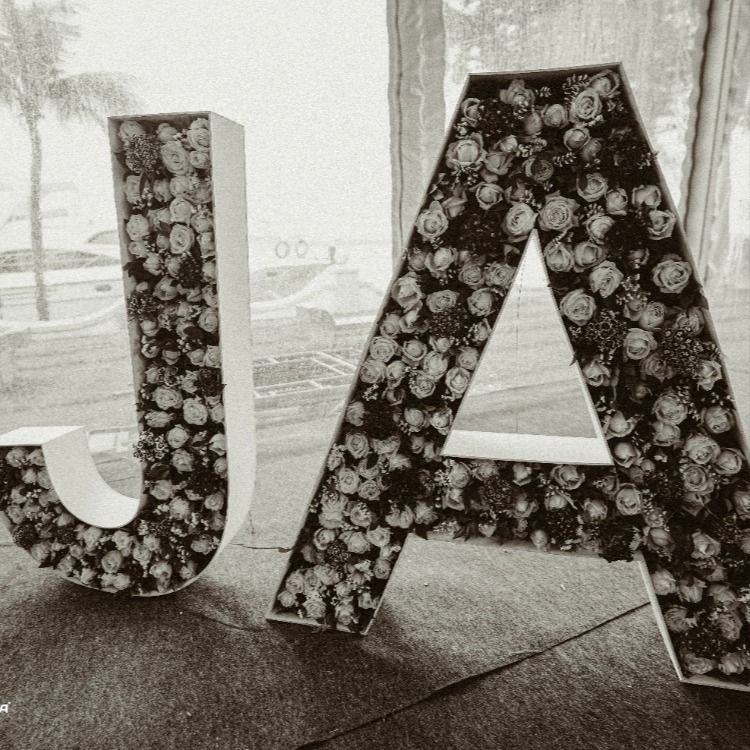 From fully covered floral decorations to hints of flowers, there are quite a few ways to
make these alphabets pop. To point out, the designs may depend upon the type of vibe
the couple is going for. Wildflowers, roses and even dried flowers are hitting the
headlines as interesting floral decor trends in weddings.
3) Wedding Stage Decor
Well well well! It is almost impossible to decorate a wedding stage without flowers.
Evidently, soon-to-be-wed couples are always digging for a good, aesthetic floral
decor for wedding stages. Most importantly, the scent and the energy of a
well-curated wedding stage filled with flowers is never going off the news ever.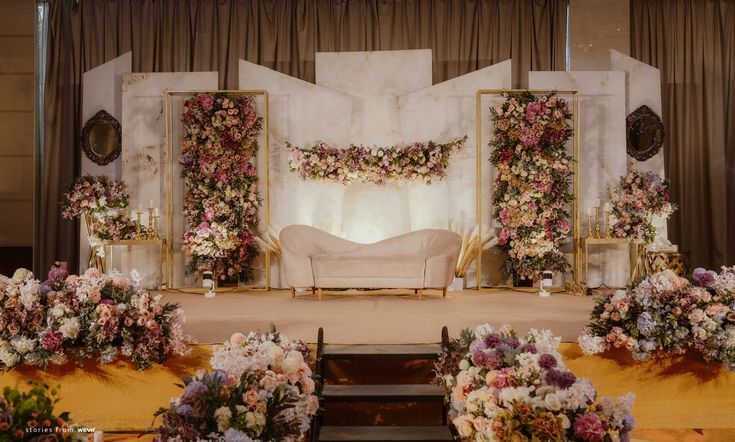 Apart from the visually pleasing elements, it is one of the foundation stones of the
crucial wedding poojas and ritualistic ceremonies happening on stage. Especially in
Hindu weddings, temple flowers are handpicked for garland hangings and pooja
essentials that are all part of the wedding stage in one way or another.
4) Frames of Grace
Talking about the latest wedding stage decorations of 2022, floral frames on the altar
are also an unavoidable part of wedding decor. For shaping the venue with a
well-designed floral frame, one must take note of the type of venue and surroundings.
Clearly, frames with lots of greens and flowers shine differently in outdoor venues.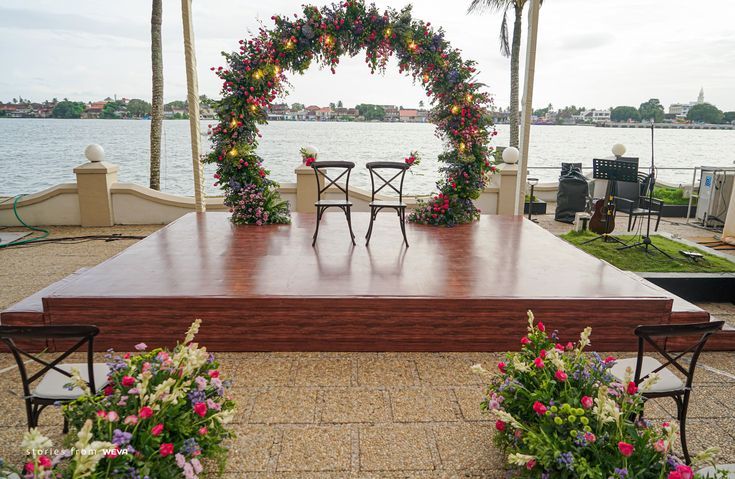 And, when it comes to beach weddings and farmhouse functions, the theme often
deviates from a wild fairly core or cottagecore aesthetic. The couple shall take some
time off for the florists to pick a palette together. Try to handpick the selection of
flowers and greens in person for building the frame of your dreams.
5) Garland Hangings
The famous Indian wedding floral decor styles include hanging garlands all around
the venue. It's a great joy to watch the whole process of framing the venue with a big
bunch of garlands. Filling the ceiling and roofs with heavily braided garlands is yet
another way to achieve luxe feels.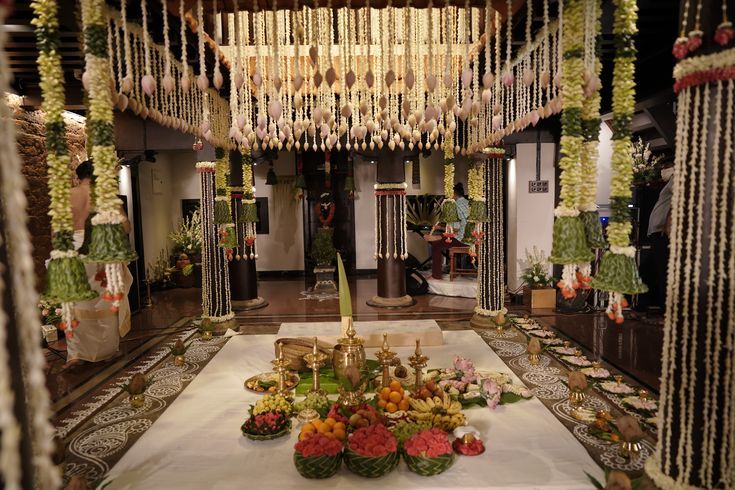 Apart from designing the Mandapa, reception stage and entries to the venue, there are
some other important places as well. For example, to block the place where the bride
rests in Muslim weddings, Bridal entry frames, Palquins for dramatic bridal entries.
Also, the ceilings can be designed into different shapes and patterns by using hanging
decors creatively!
6) The Flower Bed
Ever fancy a flower bed for your own bridal entry or groom's entry? Outdoor lawn
weddings feel even more special while the entries and exits are marked by flower
beds. Similarly, flower beds can be used to mark the rituals that are often conducted
outdoors. For example, the Oonjal ceremony in Tamil Brahmin weddings.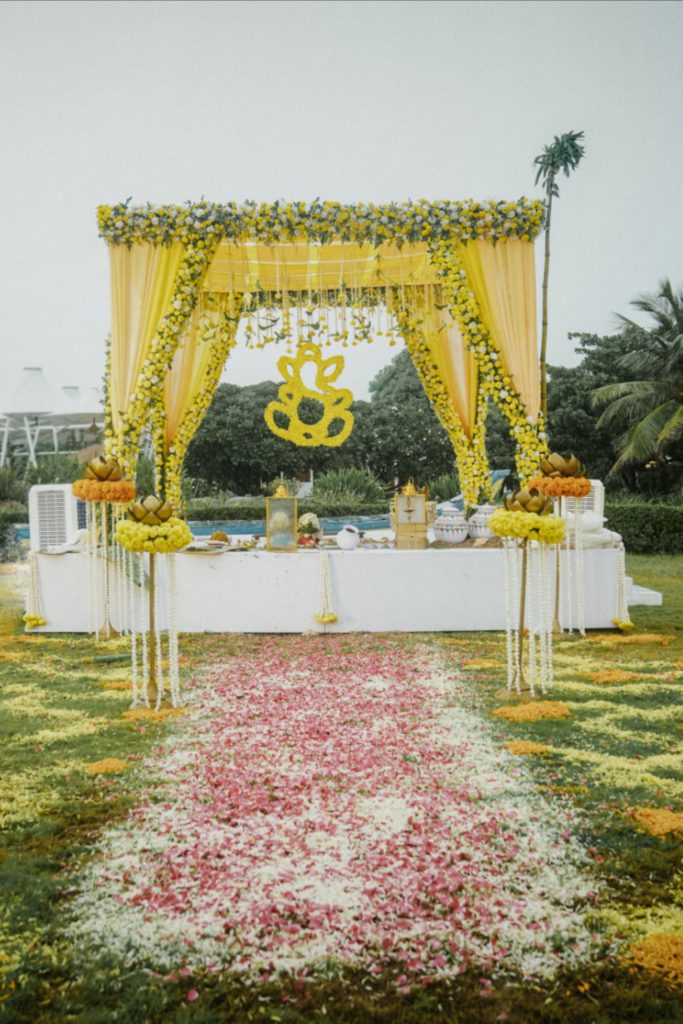 Added to that, flower beds can also be used for exclusive couple photoshoots at
weddings. Walking barefoot to the Mandapa in barefoot on soft flower beds feel
oddly comforting for most of the soon-to-be weds.
7) Furniture Styling
Latest furniture decor trends in weddings include giant bow ties, satin covers and
chic floral decors. Rather than winding up the seat decor with just a satin throw and a
ribbon bow, it's time to level up the game with floral decor and detailing. Along with
creating a definition for the guest chairs, there are some other useful deeds that these
decors can do.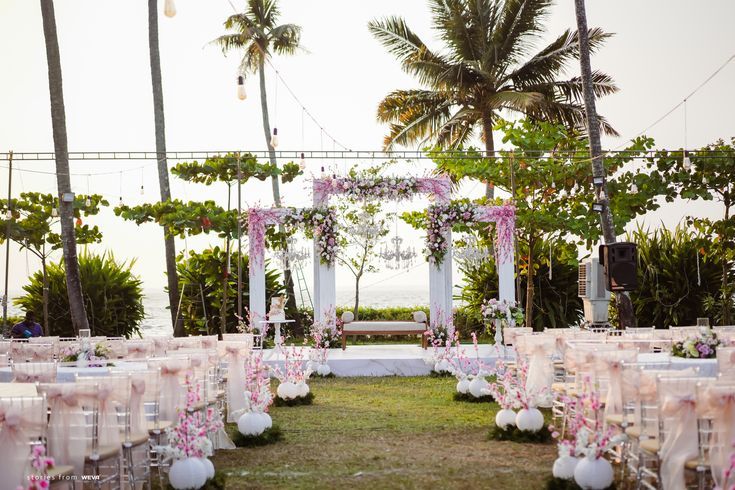 The flowers can be used to colour block the seats and tables for desired guest parties.
This in turn helps to recognize the bride's and groom's families separately in intimate
family functions.
8) Wedding Cake Accessorizing
Wedding cakes are no fun without flower crowns for a little dip of spicy decor. If you
wish to go loud with a massive piece of floral decor, don't think twice! Just go for it.
The positive element of flowers in cakes is, no matter what the theme is, it blends
beautifully.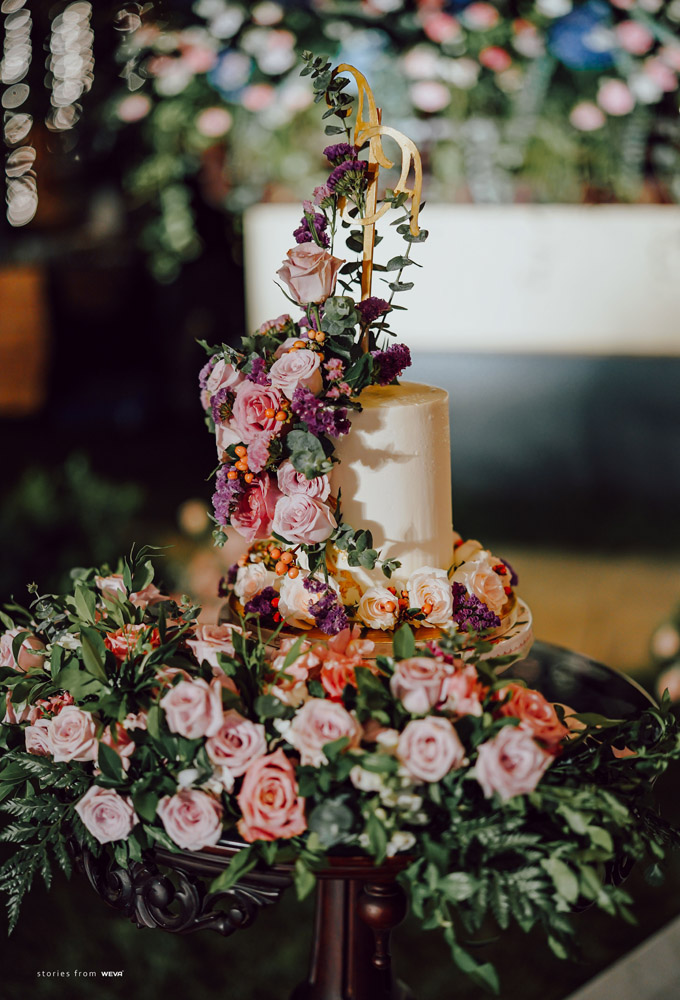 Cottagecore, fairly core, Western wedding aesthetic, Gothic trends or grunge vibes, flowers
are never out of style if you handpick the right selection with your expert. However,
wedding cake artists, have also come up with edible floral decor that goes
hand in hand with the surrounding real ones.
9) Table Arrangement
Feast tables that are carefully curated with name listings often feel incomplete with a
classic porcelain vase full of flowers in theme. And so do the cutlery arrangements
without candid floral decor. Imagine your table arranged with signature spacing for
each guest decorated with fresh flower bouquets or bundles. Wouldn't you feel special
to have seated at such a table with dreamy floral combinations? If you would like to
level up your wedding feast celebrations, take note of these tips to discuss with your
decor artists for a further layout!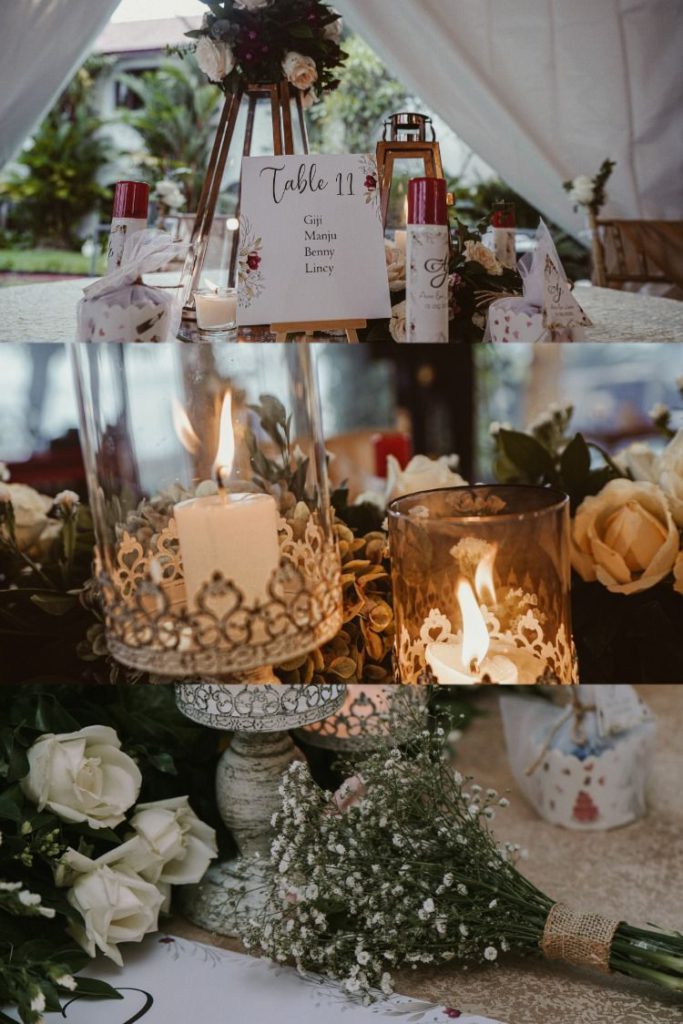 10) A Little Extra
As part of filtering the latest flower-themed wedding decor trends, we see a lot of
fusions. A beautiful balance is made by selecting props from vintage, modern as well
as contemporary aesthetics, all set to match the theme of the wedding. Here, we have
showcased a detailed photo.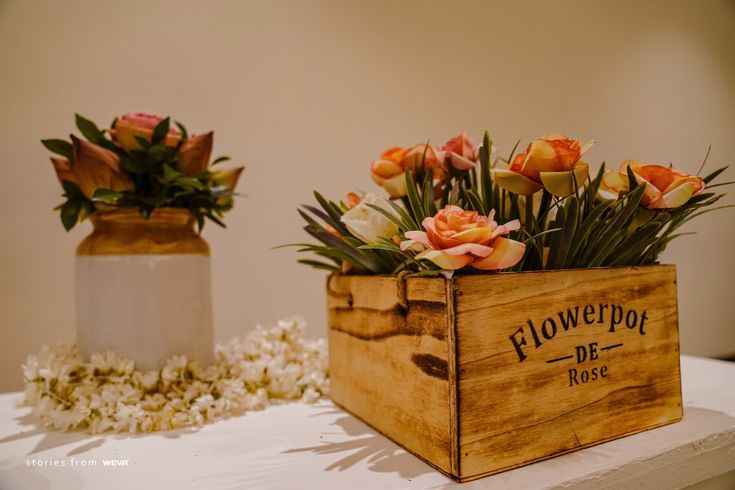 The vase and the wooden finish box gives vintage aesthetic. And, the pastels in
flowers are trulig giving the contemporary wedding decor trends of 2022. Also, the
jasmine garland is adding a homely touch. Interestingly, the bundle as a whole gives a
fresh new feel as something unique and rarely spotted.
We hope you had a great time flipping through our curation. As we have discussed
above, it's nearly impossible to curate a palette for wedding decor without flowers.
Though artists often use artificial props and flowers to meet the needs in case of
scarcity, it's never an equal to the real ones.
Rather than the beauty or aesthetics, freshly plucked floral arrangements lift the venue
to a completely different mood. The scent and the soft feels add a refreshing energy to
the auspicious ceremonies. And that is exactly why all of us are obsessed with
wholesome floral decorations in wedding venues!