Are you a tuxedo person or a sucker for traditional festive fits!? Would you like to
stay updated about the viral trends in groom's engagement dresses as per our 2022
year analysis so far? or would you like to explore some of the evergreens looks in
groom's engagement dresses before you begin the big hunt for yours!?
Outfit hunts can be tiring if you don't have a clear vision of what you are looking for.
Hence, we have curated a quirky list with the help of the best engagement
photographers in Kerala. We hope you would feel much more relaxed and focused
after this 5 minute-read! Grab your favorite snack to enjoy while we take you on a
virtual treat!
1) Go Regal
Indian suits paired with classy ornaments add a royal touch to the overall look. Added
to that, Indian suits of beige tones and off-white shades are often found at celebrity
weddings and viral engagement looks in celebrity weddings . Hence, it is something
that most grooms would like to have a trial of to see how it feels in this complete
Sherwani outfit.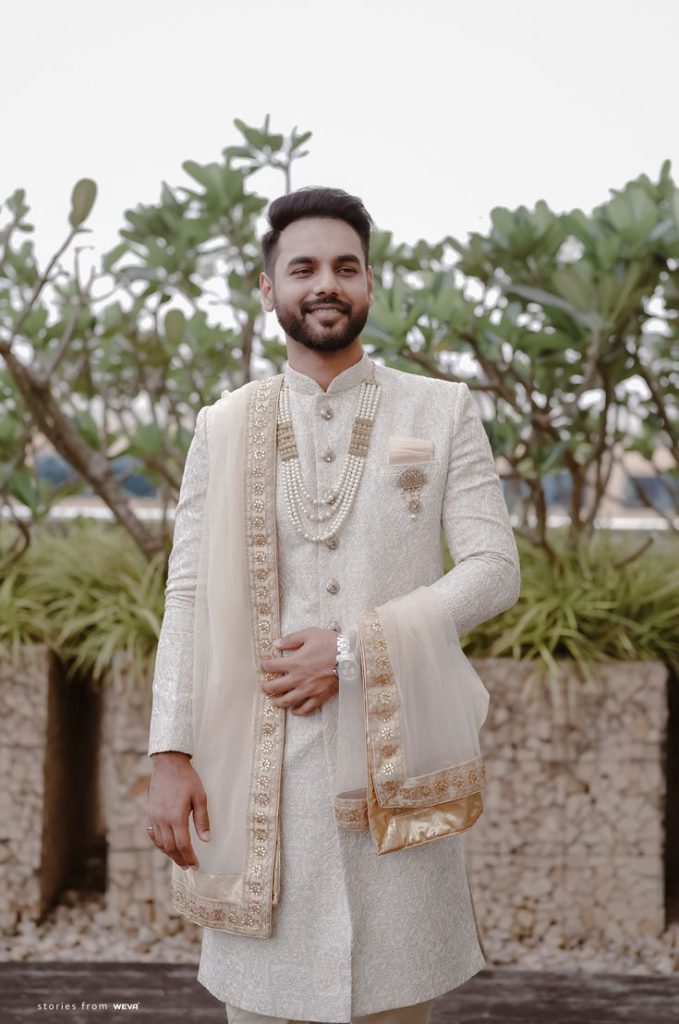 Also, the styling we see here is derived from a truly traditional look from North
Indian weddings. To highlight, Sherwani outfits are considered to be a crowds
favorite all across the nation. And, grooms often prefer going a little extra with their
2022 Sherwani look for engagement events and after-wedding reception parties.
2) Prints Over Solids
Choosing prints over solid colors helps you land on something different and classy if
styled with care. As compared to solid colors and subtle patterns, prints can create a
strong wave as it's something that is not seen very often. Added to that, Indian
designers are coming up with lots of bold prints that are apt to create a statement look.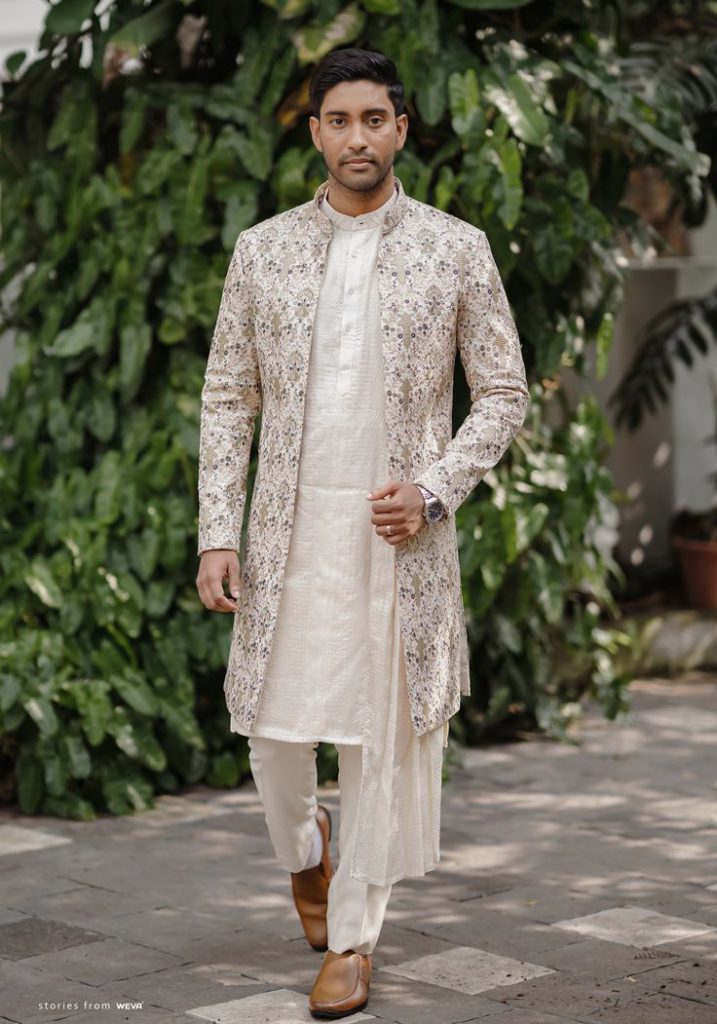 From traditional motifs to contemporary designs, there are countless options to search
from! Interestingly, the printed aesthetic has influenced both Indian styles and western
looks as seen in the best engagement dresses for grooms 2022. Clearly, prints have
the power to transform the entire mood of the events with its fun, sassy elements that
are irresistible.
3) The Traditional Touch
Traditional engagement dresses for grooms often turn out to be comfier especially
for outdoor events upon considering the Indian weather. Though the modern
engagement dresses in groom's fashion tend to take over our minds due to their
glam and glitz, Indian attires can never be beaten when it comes to comfort! To
acquire a traditional yet trendy aesthetic, one shall focus on the finish and fabric of the
outfit during the fittings and trials.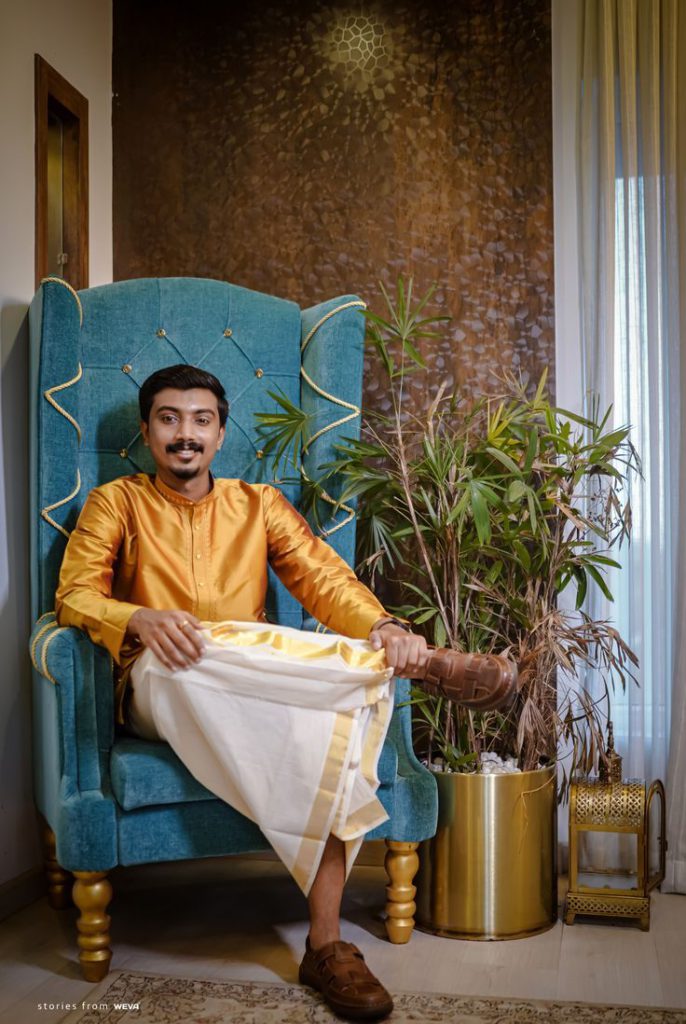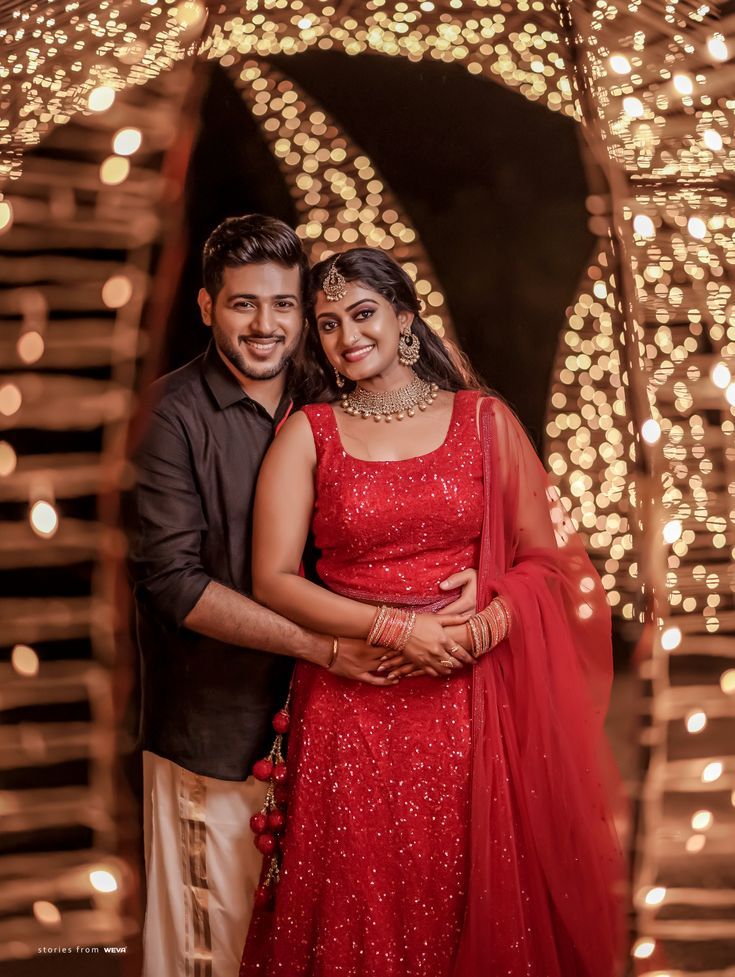 Going for fresh earthy colors can assure a little ease to your stressed nerves while
stepping through the big events. Added to that, the groom shall make sure to get the
perfect fit while handpicking the top and bottom wear. It has a big influence on
pulling off a polished look especially when you can't ditch your traditional.
4) Nehru Vest for the Win
A crisp white kurta with a matching set of Nehru vest and Indian jhuttis is nothing but
a breath of fresh air! Evidently, this evergreen engagement look for Indian grooms
has been much loved over the past few decades. Most importantly, the attire perfectly
blends with the variety of genres in groom's fashion looks for engagement events.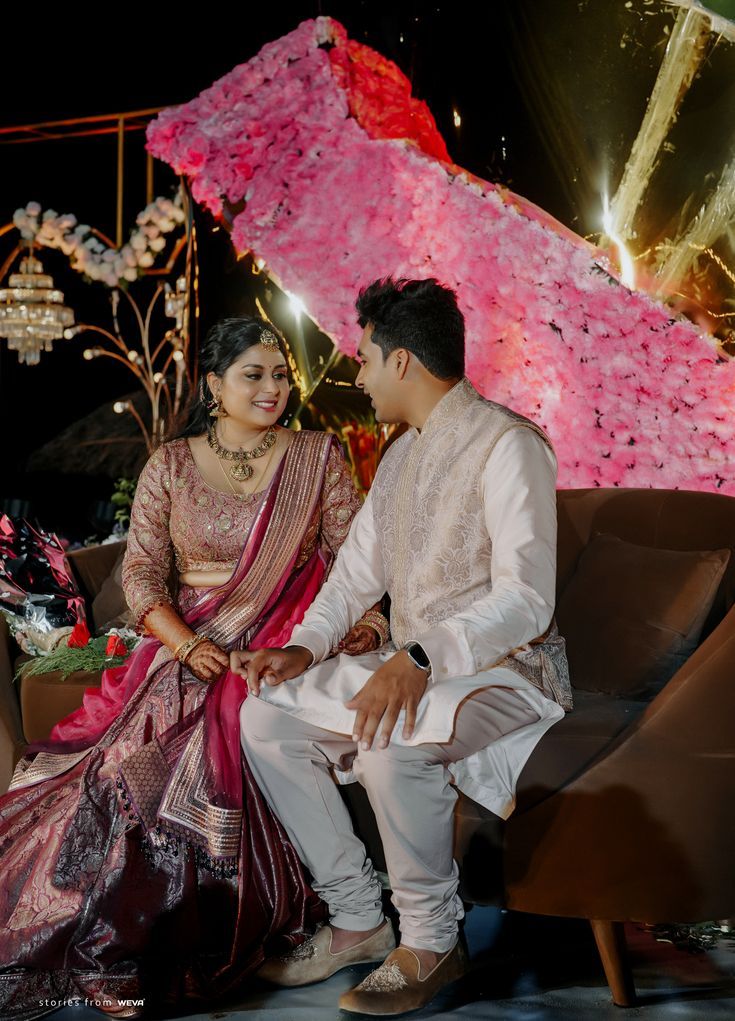 The kurta-vest set has a lovely semi-formal vibe that makes it apt for both formal and
informal functions. Hence, if you prefer to rock the same outfit for consecutive
ceremonies on the same day, throwing on a Nehru vest can get you covered when it
comes to nailing your latest engagement look for grooms!
5) Keep it Cool
A good white shirt paired with a perfect pair of trousers in neutral tones is as powerful
as a custom statement look if dressed with care! Who wouldn't like to slip into comfy
semi-formals with a perfect pair of tan shoes for intimate family events like
engagement parties?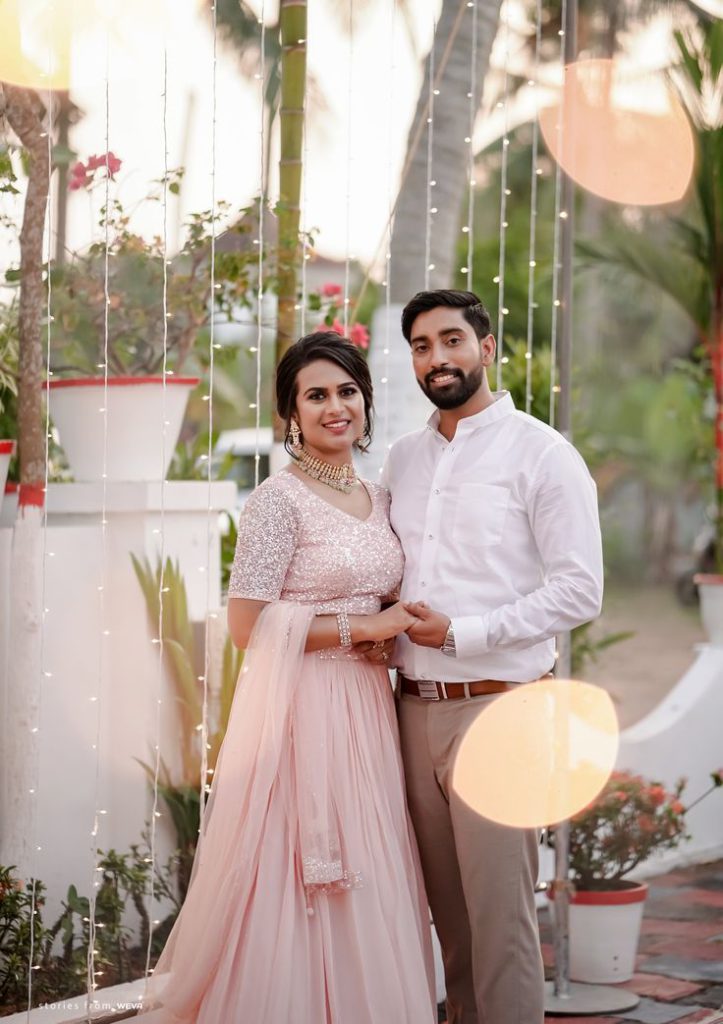 As we look at the portrait we have showcased here, our groom has pulled off a neat
semi-formal look with basics that are minimal yet powerful. To highlight, popular
engagement dresses for grooms like these are spotted all across the world. Evidently,
the outfit ticks off all the plus points expected in comfy yet stylish trends in
engagement dresses for grooms.
6) The Power Duo
Dressing in sync with one's partner is never going off the trends any time soon!
Clearly, engagement parties and pre-wedding ceremonies are some of the perfect
occasions to play around the outfits as the events are a bit more relaxed as compared
to the wedding events. To point out, syncing with your partner can be achieved
through a handful of ways.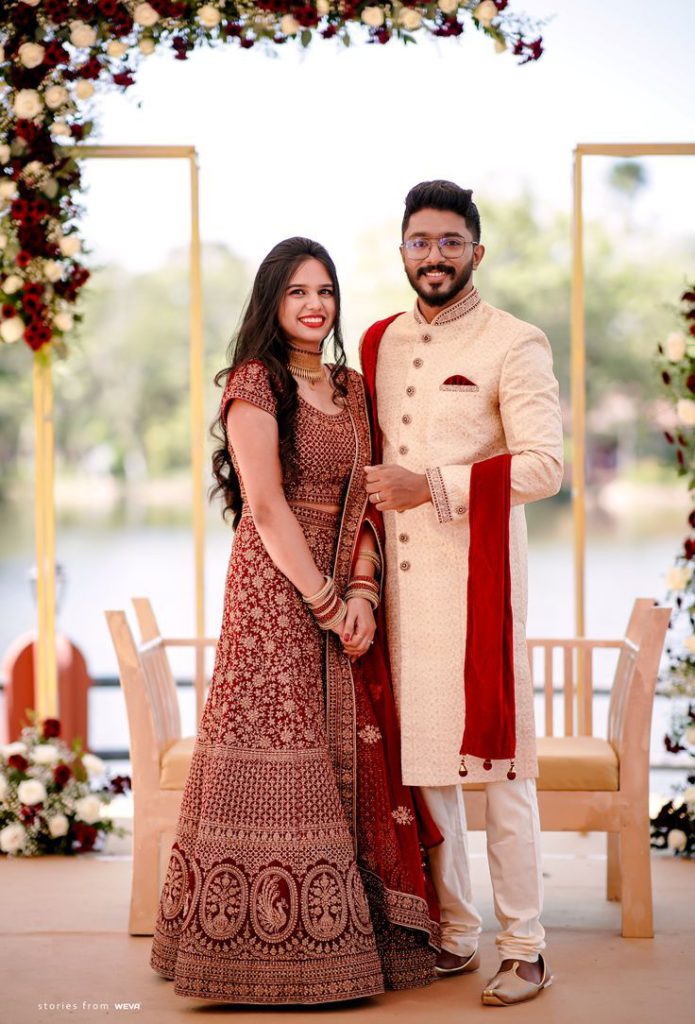 That includes choosing coordinated outfits that are monochrome, opting for the same
aesthetic etc. Also, strictly sticking to the core style with a fixed color palette helps to
achieve neat, uniform looks. Rather than choosing the exact same color, the couple
shall also consider adjacent shades of a particular color.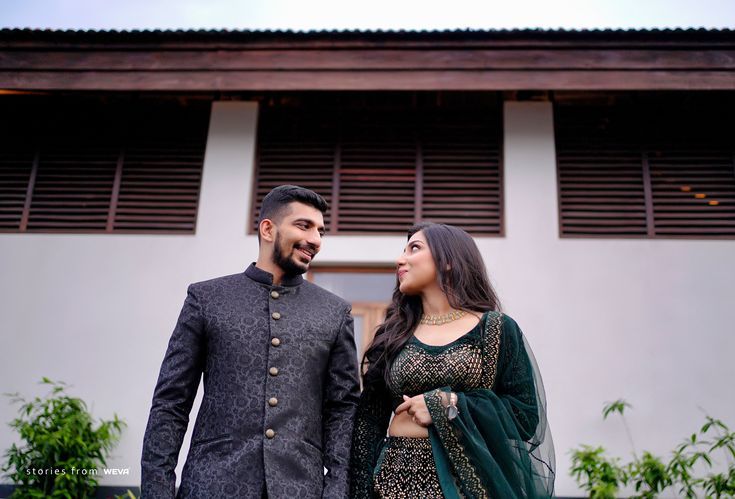 We hope you had a great time flipping through the crowd's favorite engagement for
grooms of 2022. Our curation aims at nourishing you with some basics in grooms'
engagement dresses when it comes to the viral wedding fashion trends of 2022.
From nationally trending looks to comfy traditional fits, we have quite a few choices
for grooms with different tastes. We hope you are well-served with the evergreen
looks in wedding fashion. And, we hope to bring the upcoming additions and trends to
help you keep updated about the hot fashion trends in the industry! Stay tuned for the
new updates.